الملاحظات التقييمية الرسمية على الحوارات إلى قمة الأمم المتحدة للنظم الغذائية لعام 2021
آخر تحديث:
تنزيل مستند PDF
بدعوة من
Ms. Judy Matu - Association of Women in Agriculture Kenya - AWAK, Mr. Charles Opiyo - GAIN Alliance
نطاق التركيز الجغرافي
Burundi, Kenya, Malawi, Rwanda, Uganda, United Republic of Tanzania
التنسيق
على الإنترنت
يُرجى مراجعة التفاصيل أدناه للحصول على معلومات التسجيل إذا كانت متوفرة أو الاتصال بمنظم الحوار إذا كنت ترغب في الحضور.
القيّم
Dr. Jemimah Njuki - IFPRI
الوصف
Food Systems Summit Dialogues offer a powerful opportunity for people everywhere to have a seat at the table at this milestone UN Food System Summit. Dialogues bring together a diversity of stakeholders, including voices that are seldom heard, and provide an important opportunity for participants to debate, collaborate, and take action towards a better future.
The ideas, solutions, partnerships and action plans generated in the Dialogues are critical to the Summit's success. Offer insights that contribute to shaping the pathways which will lead to equitable and sustainable Food Systems transformation locally and regionally.
Women make important contributions to the agricultural and rural economies. They play a vital role in growing, processing and marketing food in Kenya, yet they have less access to assets, capital, training and opportunities than men, and thus earn considerably less. Entrenched gender roles play a big role in limiting decision-making capacity on rights to land use/access, agricultural proceeds' sharing/use, and collateral to access credit among others. We must move beyond simply thinking of women as contributors to agricultural value chains to considering them as leaders and developers of sustainable food systems.
The dialogue will cover the following key topics
Access to markets and infrastructure at Scale.
Supporting women farmers and agri- entrepreneurs with technology, finance, capacity and legal rights.  
Fiscal justice /Enabling policy (gender responsive) leadership and decision making, representation, budgeting.
Climate action and inclusive  financing- (green financing)
Partnerships for inclusive  food systems for women.
The expected outcomes:
A set of priority actions needed to address barriers to gender equality, inclusion, access and women's empowerment in food systems for presentation in the National Food Systems Dialogue.
Coalitions of actors and partners to implement priority recommendations.
Greater awareness of gender equality and food systems issues in Kenya.
الشكر والتقدير
Dr. Jemimah Njuki - IFPRI, Mr. Charles Opiyo - GAIN Alliance, Ms. Harriet Mawia - IFPRI, Ms. Maureen Muketha - GAIN Alliance, Association of Women in Agriculture Kenya - AWAK.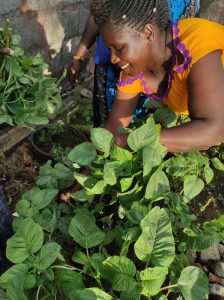 مصدر الصورة: Photo credits : Association of Women in Agriculture Kenya (AWAK)