الملاحظات التقييمية الرسمية على الحوارات إلى قمة الأمم المتحدة للنظم الغذائية لعام 2021
آخر تحديث:
تنزيل مستند PDF
بدعوة من
Mr. Alisher Shukurov, Advisor to the Minister of Agriculture of Uzbekistan
لغة فعالية الحوار
Uzbek, English, Russian
المدينة
88 Амир Темур шоҳ кўчаси, Тошкент 100084, Uzbekistan
نطاق التركيز الجغرافي
Uzbekistan
التنسيق
شخصيّاً
يُرجى مراجعة التفاصيل أدناه للحصول على معلومات التسجيل إذا كانت متوفرة أو الاتصال بمنظم الحوار إذا كنت ترغب في الحضور.
القيّم
Mr. Tulkin Farmonov, Director of the Research Institute of Agricultural and Food Economics of Uzbekistan
الوصف
Overview of conducted Sub-national Dialogues in Nukus and Namangan. Presentation of the outcomes. 
Role of International Development Organizations in Sustainability of the Food Systems in Uzbekistan (Within 5 Action Tracks)
• Ensure access to safe and nutritious food for all;
• Shift to sustainable consumption patterns;
• Boost nature-positive production;
• Advance equitable livelihoods;
• Build resilience to vulnerabilities, shocks and stress.
الشكر والتقدير
Mr. Jamshid Khodjaev, Minister of Agriculture; Ms. Helena Fraser, UN Resident Coordinator; Ms. Matilda Dimovska, UNDP Resident Representative; Mr. Sherzod Umarov, Assistant FAO Representative in Uzbekistan.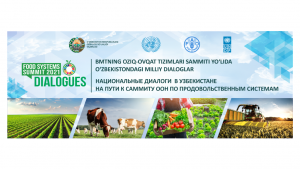 مصدر الصورة: UNDP Uzbekistan