Official Dialogue Feedback to the United Nations 2021 Food Systems Summit
Last updated:
Download PDF
Type of Dialogue
Member State
Convened by
Mr. Alisher Shukurov, Advisor to the Minister of Agriculture of Uzbekistan
Language of Dialogue Event
Uzbek, English, Russian
City
88 Амир Темур шоҳ кўчаси, Тошкент 100084, Uzbekistan
Geographical focus
Uzbekistan
Format
In-person
Please review the details below for registration information if available or contact the Convenor if you would like to attend.
Curator
Mr. Tulkin Farmonov, Director of the Research Institute of Agricultural and Food Economics of Uzbekistan
Description
Overview of conducted Sub-national Dialogues in Nukus and Namangan. Presentation of the outcomes. 
Role of International Development Organizations in Sustainability of the Food Systems in Uzbekistan (Within 5 Action Tracks)
• Ensure access to safe and nutritious food for all;
• Shift to sustainable consumption patterns;
• Boost nature-positive production;
• Advance equitable livelihoods;
• Build resilience to vulnerabilities, shocks and stress.
Acknowledgement
Mr. Jamshid Khodjaev, Minister of Agriculture; Ms. Helena Fraser, UN Resident Coordinator; Ms. Matilda Dimovska, UNDP Resident Representative; Mr. Sherzod Umarov, Assistant FAO Representative in Uzbekistan.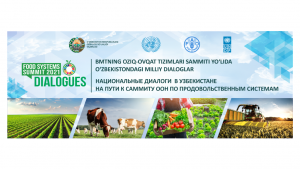 Image credit: UNDP Uzbekistan