الملاحظات التقييمية الرسمية على الحوارات إلى قمة الأمم المتحدة للنظم الغذائية لعام 2021
آخر تحديث:
تنزيل مستند PDF
بدعوة من
EvalForward Community of Practice on Evaluation for Agriculture, Food Security and Rural Development
المدينة
Rome, Metropolitan City of Rome, Italy
نطاق التركيز الجغرافي
No borders
الوصف
This Dialogue aims to bring to the fore the contribution of evaluation and of the evaluation community to sustainable food systems and to the Food Systems Summit commitments & follow up.
Representatives from the evaluation community will discuss the role of evaluative evidence in delivering on the outcomes of the Food Systems Summit, highlighting challenges, opportunities and ways forward for evaluation to contribute to sustainable food systems.
Discussion topics will include: the role of evaluation for food systems transformation, the contribution of the evaluation community towards more sustainable food systems, evaluation methods and approaches, among others.
Agenda:
Welcome by Andrea Cook, Director, Office of Evaluation, WFP
Key note by Michael Quinn Patton, Founder and Director of Utilization-Focused Evaluation
Highlights by Florence Etta, co-chair EvalSDGs and Marie Gaarder, executive director of 3ie
Group discussions facilitated by senior evaluation officers from CGIAR, FAO, IFAD, WFP
Concluding remarks by Masahiro Igarashi, Director, Office of Evaluation, FAO
الشكر والتقدير
Evaluation offices of FAO, IFAD and WFP and Joint Secretariat of CGIAR Advisory Services.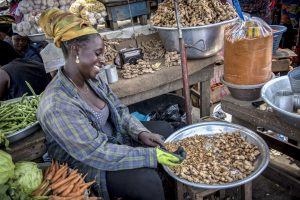 مصدر الصورة: FAO/Cristina Aldehuela