الملاحظات التقييمية الرسمية على الحوارات إلى قمة الأمم المتحدة للنظم الغذائية لعام 2021
آخر تحديث:
تنزيل مستند PDF
بدعوة من
DR SARADA PRASAD MOHAPATRA, CONVENOR , MR NTIOKAM DIVINE, CO-CONVENOR
لغة فعالية الحوار
ENGLISH SPANISH FRENCH ODIA
المدينة
Bhubaneswar, Odisha, India
نطاق التركيز الجغرافي
India
التنسيق
على الإنترنت
يُرجى مراجعة التفاصيل أدناه للحصول على معلومات التسجيل إذا كانت متوفرة أو الاتصال بمنظم الحوار إذا كنت ترغب في الحضور.
الوصف
This is an independent dialogue on the theme" Women in Agriculture: Gender Inequalities and Food Security" in which people from all sectors like Academics, NGO, Farming, Entrepreneurs will discuss in an open forum about the the role of women in agriculture as well as in food security as more women are participating in the agriculture but they are neglected and they are deprived of training on various agricultural techniques. if women empowerment can be done in real sense then they can be game changer in agricultural evolution and Global Food Security.
الشكر والتقدير
MR NTIOKAM DIVINE, MD & CEO, GCSAYN.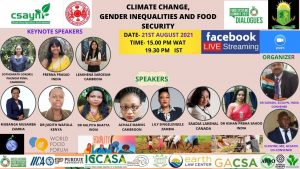 مصدر الصورة: NARASINGH CHOUDHURY AUTONOMOUS COLLEGE, JAJPUR, ODISHA, INDIA