Official Dialogue Feedback to the United Nations 2021 Food Systems Summit
Last updated:
Download PDF
Type of Dialogue
Independent
Convened by
DR SARADA PRASAD MOHAPATRA, CONVENOR , MR NTIOKAM DIVINE, CO-CONVENOR
Language of Dialogue Event
ENGLISH SPANISH FRENCH ODIA
City
Bhubaneswar, Odisha, India
Format
Online
Please review the details below for registration information if available or contact the Convenor if you would like to attend.
Description
This is an independent dialogue on the theme" Women in Agriculture: Gender Inequalities and Food Security" in which people from all sectors like Academics, NGO, Farming, Entrepreneurs will discuss in an open forum about the the role of women in agriculture as well as in food security as more women are participating in the agriculture but they are neglected and they are deprived of training on various agricultural techniques. if women empowerment can be done in real sense then they can be game changer in agricultural evolution and Global Food Security.
Acknowledgement
MR NTIOKAM DIVINE, MD & CEO, GCSAYN.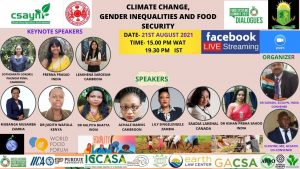 Image credit: NARASINGH CHOUDHURY AUTONOMOUS COLLEGE, JAJPUR, ODISHA, INDIA