الملاحظات التقييمية الرسمية على الحوارات إلى قمة الأمم المتحدة للنظم الغذائية لعام 2021
آخر تحديث:
تنزيل مستند PDF
بدعوة من
DR. SARADA PRASAD MOHAPATRA/MR. NTIOKAM DIVINE
لغة فعالية الحوار
ENGLISH HINDI ODIA FRENCH SPANISH
المدينة
Bhubaneswar, Odisha, India
نطاق التركيز الجغرافي
India
التنسيق
على الإنترنت
يُرجى مراجعة التفاصيل أدناه للحصول على معلومات التسجيل إذا كانت متوفرة أو الاتصال بمنظم الحوار إذا كنت ترغب في الحضور.
الوصف
This dialogue aims to involve all stake holders(Academia/Researcher/Analysts, Women, Farmers, Youth, Entrepreneur to have an open discussion how to restore the broken food value chain during this pandemic and how to make it sustainable digitally so that development in rural sector will be made substantially. It also aims to get some positive and feasible solutions in the direction of strive against hunger and poverty which ultimately helps to fulfill SDG 1.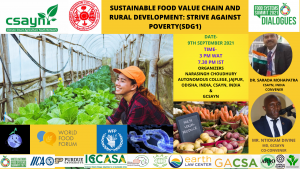 مصدر الصورة: NARASINGH CHOUDHURY AUTONOMOUS COLLEGE, JAJPUR, ODISHA, INDIA