Official Dialogue Feedback to the United Nations 2021 Food Systems Summit
Last updated:
Download PDF
Type of Dialogue
Independent
Convened by
DR. SARADA PRASAD MOHAPATRA/MR. NTIOKAM DIVINE
Language of Dialogue Event
ENGLISH HINDI ODIA FRENCH SPANISH
City
Bhubaneswar, Odisha, India
Format
Online
Please review the details below for registration information if available or contact the Convenor if you would like to attend.
Description
This dialogue aims to involve all stake holders(Academia/Researcher/Analysts, Women, Farmers, Youth, Entrepreneur to have an open discussion how to restore the broken food value chain during this pandemic and how to make it sustainable digitally so that development in rural sector will be made substantially. It also aims to get some positive and feasible solutions in the direction of strive against hunger and poverty which ultimately helps to fulfill SDG 1.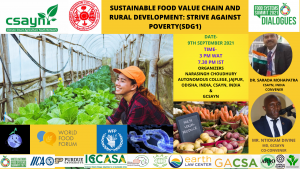 Image credit: NARASINGH CHOUDHURY AUTONOMOUS COLLEGE, JAJPUR, ODISHA, INDIA