بدعوة من
Abdul Ghufran Memon, Federal Secretary for National Food Security & Research,
لغة فعالية الحوار
Bi-Lingual, English & Urdu
المدينة
Peshawar, Pakistan
نطاق التركيز الجغرافي
Pakistan
التنسيق
شخصيّاً
يُرجى مراجعة التفاصيل أدناه للحصول على معلومات التسجيل إذا كانت متوفرة أو الاتصال بمنظم الحوار إذا كنت ترغب في الحضور.
القيّم
Dr. Azeem Khan- Chairman PARC
الوصف
PAKISTAN SUB-NATIONAL FOOD SYSTEMS DIALOGUE- KP

"Aligning National Agricultural Food System Practices and Policies"

UNITED NATIONS FOOD SYSTEMS SUMMIT- 2021 – TRANSFORMING PAKISTANI FOOD SYSTEMS

Monday, July 5th , 2021 @ Agriculture University Peshawar , KP
Sr. No.
 

Description

Presenter
1
09:50 – 10:00
Participants joining through Zoom
All Participants
2
10:00 – 10:10
Opening Remarks & Welcome Address
Prof. Dr. Jahan Bakht,

Vice Chancellor, University of Agriculture, Peshawar, Khyber Pakhtunkhwa (KP)

3
10:10 – 10:20
Remarks by Secretary Agriculture "Food System Transformation"
Mr. Muhammad Israr

Secretary Agriculture- KP

4
10:20 – 10:50
Introduction by "Pakistan UNFSS State Dialogue Curator" on

– Food Systems Summit &

– Why Focus on Food Systems

– Food Systems Summit Dialogues- Country Progress

Dr. Muhammad Azeem Khan

Chairman Pakistan Agricultural Research Council (PARC), MNFS&R, Islamabad

5
10:50 – 11:10
Groups Discussion/Criteria Guidelines

(Pakistan UNFSS State Dialogue Facilitator)

·  Objectives

·  Templates

·  Transfer to Discussion Groups – Breakout/Discussion

·  POLL

Faiz Rasool

Senior Policy Advisor – Global Alliance for Improved Nutrition (GAIN)

6

11:10 – 12:00

Joining Breakout Sessions,

·  Presentations (Working Paper) by Respective AT leads to thematic group participants

·  Getting feedback from group participants

All Participants
7
12:00 – 12:15
Sharing breakout session discussion takeaway points with Broader Audience 4-5 Minutes for each presenter.
All Action Track Leads, AT-1 to AT-5
8
12:15 – 12:25
Concluding Remarks
Representative Government of KP
9
12:25 – 12:30
Vote of Thanks
Representative Government of KP
الشكر والتقدير
Dept. of Agriculture-KP, FAO, IFAD, GAIN, WFP.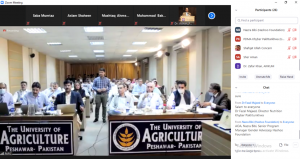 مصدر الصورة: PARC