Type of Dialogue
Member State
Convened by
Abdul Ghufran Memon, Federal Secretary for National Food Security & Research,
Language of Dialogue Event
Bi-Lingual, English & Urdu
Geographical focus
Pakistan
Format
In-person
Please review the details below for registration information if available or contact the Convenor if you would like to attend.
Curator
Dr. Azeem Khan- Chairman PARC
Description
PAKISTAN SUB-NATIONAL FOOD SYSTEMS DIALOGUE- KP

"Aligning National Agricultural Food System Practices and Policies"

UNITED NATIONS FOOD SYSTEMS SUMMIT- 2021 – TRANSFORMING PAKISTANI FOOD SYSTEMS

Monday, July 5th , 2021 @ Agriculture University Peshawar , KP
Sr. No.
 

Description

Presenter
1
09:50 – 10:00
Participants joining through Zoom
All Participants
2
10:00 – 10:10
Opening Remarks & Welcome Address
Prof. Dr. Jahan Bakht,

Vice Chancellor, University of Agriculture, Peshawar, Khyber Pakhtunkhwa (KP)

3
10:10 – 10:20
Remarks by Secretary Agriculture "Food System Transformation"
Mr. Muhammad Israr

Secretary Agriculture- KP

4
10:20 – 10:50
Introduction by "Pakistan UNFSS State Dialogue Curator" on

– Food Systems Summit &

– Why Focus on Food Systems

– Food Systems Summit Dialogues- Country Progress

Dr. Muhammad Azeem Khan

Chairman Pakistan Agricultural Research Council (PARC), MNFS&R, Islamabad

5
10:50 – 11:10
Groups Discussion/Criteria Guidelines

(Pakistan UNFSS State Dialogue Facilitator)

·  Objectives

·  Templates

·  Transfer to Discussion Groups – Breakout/Discussion

·  POLL

Faiz Rasool

Senior Policy Advisor – Global Alliance for Improved Nutrition (GAIN)

6

11:10 – 12:00

Joining Breakout Sessions,

·  Presentations (Working Paper) by Respective AT leads to thematic group participants

·  Getting feedback from group participants

All Participants
7
12:00 – 12:15
Sharing breakout session discussion takeaway points with Broader Audience 4-5 Minutes for each presenter.
All Action Track Leads, AT-1 to AT-5
8
12:15 – 12:25
Concluding Remarks
Representative Government of KP
9
12:25 – 12:30
Vote of Thanks
Representative Government of KP
Acknowledgement
Dept. of Agriculture-KP, FAO, IFAD, GAIN, WFP.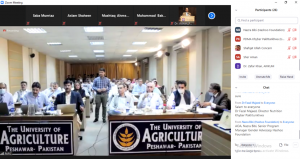 Image credit: PARC