الملاحظات التقييمية الرسمية على الحوارات إلى قمة الأمم المتحدة للنظم الغذائية لعام 2021
آخر تحديث:
تنزيل مستند PDF
بدعوة من
DR. SARADA PRASAD MOHAPATRA/MR. NTIOKAM DIVINE
لغة فعالية الحوار
ENGLISH, FRENCH, SPANISH, ODIA, HINDI
المدينة
Bhubaneswar, Odisha, India
نطاق التركيز الجغرافي
No borders
التنسيق
على الإنترنت
يُرجى مراجعة التفاصيل أدناه للحصول على معلومات التسجيل إذا كانت متوفرة أو الاتصال بمنظم الحوار إذا كنت ترغب في الحضور.
الوصف
This dialogue mainly adhered to Action track 5 where the role of student youth will be discussed in the process of awareness and literacy programe about food system.
الشكر والتقدير
CSAYN Global.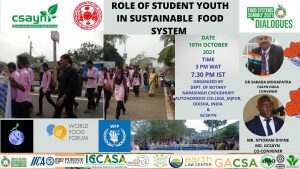 مصدر الصورة: DEPT. OF BOTANY, NARASINGH CHOUDHURY AUTONOMOUS COLLEGE, JAJPUR, ODISHA, INDIA