الملاحظات التقييمية الرسمية على الحوارات إلى قمة الأمم المتحدة للنظم الغذائية لعام 2021
آخر تحديث:
تنزيل مستند PDF
بدعوة من
EcoAgriculture Partners and the FAO North America
المدينة
Washington D.C., DC, USA
نطاق التركيز الجغرافي
No borders
التنسيق
على الإنترنت
يُرجى مراجعة التفاصيل أدناه للحصول على معلومات التسجيل إذا كانت متوفرة أو الاتصال بمنظم الحوار إذا كنت ترغب في الحضور.
الوصف
9:00 AM-11:00 AM, EST
FAO-EcoAgriculture Partners Independent Dialogue for the United Nations Food System Summit: Strengthening Landscape Partnerships: A "game-changing" solution?
Online Only via Zoom (register here)
Join us for an Independent Dialogue convened by FAO North America and EcoAgriculture Partners to discuss landscape partnerships in the context of the United Nations Food System Summit (UNFSS). The UNFSS will be looking for bold actions to receive global support and mobilization to transform food systems inclusively. Partners of the 1000 Landscapes for 1 Billion People initiative have proposed a "game-changing solution" to institutionalize support to "Strengthen Landscape Partnerships" as a means to promote nature-positive production, resilience, sustainable development and human rights around the world.
Our event will be part of the UNFSS Dialogue series. Panelists from UNFSS Action Tracks, FAO and Landscape Leaders will discuss the role of Landscape Partnerships in sustaining global food systems and the types of institutional support they need to be a 'game-changing' solution for food systems transformation in the context of post-covid recovery and beyond.
We invite everyone working to advance integrated landscape management and food systems transformation to join this Dialogue.
About the Series
The Landscape Dialogue is part of an on-going series of discussions focusing on climate change, agriculture and landscapes. EcoAgriculture Partners and the Food and Agriculture Organization of the United Nations (FAO) Liaison Office for North America have jointly organized the series since 2009.
الشكر والتقدير
Gabriel Laizer, FAO North America and Juan Ramos, Sara Scherr, EcoAgriculture Partners.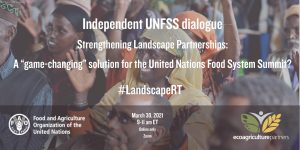 مصدر الصورة: Neil Palmer (CIAT)