الملاحظات التقييمية الرسمية على الحوارات إلى قمة الأمم المتحدة للنظم الغذائية لعام 2021
آخر تحديث:
تنزيل مستند PDF
بدعوة من
Dr. Blesilda M. Calub, University of the Philippines Los Banos (UPLB); Dr. Glenn B. Gregorio, Southeast Asian Regional Center for Graduate Study and Research in Agriculture (SEARCA)
المدينة
Los Baños, Laguna, Philippines
نطاق التركيز الجغرافي
Philippines
التنسيق
على الإنترنت
يُرجى مراجعة التفاصيل أدناه للحصول على معلومات التسجيل إذا كانت متوفرة أو الاتصال بمنظم الحوار إذا كنت ترغب في الحضور.
القيّم
Dr. Leila D. Landicho (UPLB); Mr. Jim Leandro Cano (Youth Alliance for Zero Hunger)
الوصف
In this e-dialogue, we shall discuss knowledge and experiences to mainstream the contributions of organic agriculture towards sustainable resilient community food systems that ultimately shall contribute to the attainment of the UN Sustainable Development Goals (SDGs). Multi-sector stakeholders, their challenges, strategies to overcome them, potential pathways, and action plans to reach short, medium, and long-term goals in response to the five UN FSSD Action Tracks shall be explored and shared during the dialogue. 
الشكر والتقدير
Inter-disciplinary Studies Center on Organic Agriculture, UPLB in partnership with SEARCA.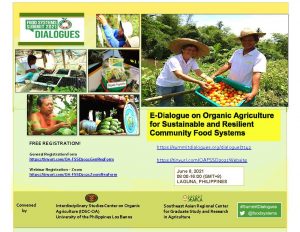 مصدر الصورة: IdSC OA UPLB