Official Dialogue Feedback to the United Nations 2021 Food Systems Summit
Last updated:
Download PDF
Type of Dialogue
Independent
Convened by
Dr. Blesilda M. Calub, University of the Philippines Los Banos (UPLB); Dr. Glenn B. Gregorio, Southeast Asian Regional Center for Graduate Study and Research in Agriculture (SEARCA)
Language of Dialogue Event
English
City
Los Baños, Laguna, Philippines
Geographical focus
Philippines
Format
Online
Please review the details below for registration information if available or contact the Convenor if you would like to attend.
Curator
Dr. Leila D. Landicho (UPLB); Mr. Jim Leandro Cano (Youth Alliance for Zero Hunger)
Description
In this e-dialogue, we shall discuss knowledge and experiences to mainstream the contributions of organic agriculture towards sustainable resilient community food systems that ultimately shall contribute to the attainment of the UN Sustainable Development Goals (SDGs). Multi-sector stakeholders, their challenges, strategies to overcome them, potential pathways, and action plans to reach short, medium, and long-term goals in response to the five UN FSSD Action Tracks shall be explored and shared during the dialogue. 
Acknowledgement
Inter-disciplinary Studies Center on Organic Agriculture, UPLB in partnership with SEARCA.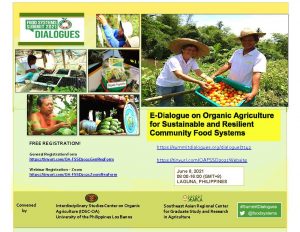 Image credit: IdSC OA UPLB