Организатор
John Aggrey - Founder & CEO, HIRED Consult | Co-Convenors MGCY & SUYAWI
Дата/время
Начало
Окончание
Местоположение
Ghana, No borders
Формат
Онлайн
Просьба ознакомиться с приводимыми ниже данными для получения регистрационной информации, если таковая имеется, или обратитесь к руководителю диалога, если желаете принять участие.
Куратор
Esther Wanza - MGCY Regional Youth Focal Point for Africa, in support of UNFSS
Описание
"All actors in society — including local and national policymakers, private sector actors within the food system and beyond (e.g., finance and technology), consumers and citizens — have a role to play in the shift towards healthier, safe and sustainable consumption. Equity and social justice must be central to the transition, to provide the greatest benefit to all".
How do we empower consumers to make informed, healthy, safe and sustainable choices?
We are pleased to invite you to our 3rd series of dialogue on food systems in support of the upcoming 2021 Food Systems Summit organized by African regional facilitators, hosted by Major Group for Children and Youth (Youth Focus Group to UNFSS) and HIRED Consult in collaboration with Sprout Up Youth and Women Initiative (SUYAWI).
JOIN us April 30, 2021 at 1pm UTC as we discuss and identify best practices and game changing solutions for #Africa
REGISTRATION REQUIRED👉 REGISTER
—
#UNFSS2021 #FoodSystemsHeroes
#AfricaFoodSystemsDialogue
#YouthHeroes4Food
#LeadonClimate
Follow us on @hiredconsult Facebook | Twitter | Instagram | LinkedIn | YouTube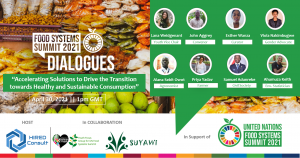 Изображение: UNFSS & John Aggrey