Официальная обратная связь диалога для Саммита ООН по продовольственным системам 2021 года
Последнее обновление:
Загрузить PDF
Виды диалогов
Государства-члена
Организатор
His Excellency Sok Silo, Secretary General, Council for Agricultural and Rural Development
Дата/время
Начало
Окончание
Город
Phnom Penh, Cambodia
Формат
Онлайн
Просьба ознакомиться с приводимыми ниже данными для получения регистрационной информации, если таковая имеется, или обратитесь к руководителю диалога, если желаете принять участие.
Куратор
Mrs. Selamawit Negash, Nutrition Specialist, Child Survival and Development, Integrated Early Childhood Development Section, UNICEF CambodiaUNICEF
Описание
In the buildup to the Summit, UNICEF will lead a series of country-level food system dialogues with school-age children and adolescents over a one week time slot. This represents a huge opportunity to unpack food systems for and with children. Engaging children and adolescents meaningfully in this process acknowledges that young people can be both recipients and active participants of food system transformation. The dialogue events have been purpose designed for engagement with children and adolescents and carefully designed for the informed consent and engagement with permission of parents or guardians. These events are designed to understand their views and perspectives on food systems, and to explore their lived experiences, insights and aspirations on how they would like food systems to evolve. UNICEF will use its platform at regional and global level to convene a high-level advocacy event for the voices of school-aged children and adolescents during the Summit itself. These children's consultations will feed into a larger project that develops evidence and strategies for UNICEF personnel, partner agencies, and government counterparts to transform food systems in healthy and sustainable ways. Through a series of fun, interactive and engaging activities, these consultations will explore children's perceptions of food systems.
The Western Sydney University Human Ethics Committee has granted ethics approval to carry out this research (Ethics Approval No. H14363). The ethics approval sets out a protocol for running the workshops, including how to make sure children consent to participating.
Благодарности
UNICEF Country and Regional Office and HQ, CARD, Helen Keller International, WFP with support from the Western Sydney University.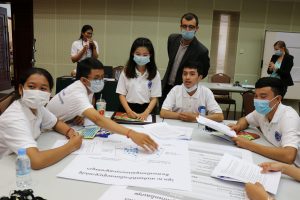 Изображение: @FAO