Официальная обратная связь диалога для Саммита ООН по продовольственным системам 2021 года
Последнее обновление:
Загрузить PDF
Организатор
Noppadol Dej-Udom, Secretary General, Global Compact Network Thailand
Дата/время
Начало
Окончание
Формат
Онлайн
Просьба ознакомиться с приводимыми ниже данными для получения регистрационной информации, если таковая имеется, или обратитесь к руководителю диалога, если желаете принять участие.
Куратор
Thanyaporn Krichtitayawuth, Executive Director, Global Compact Network Thailand
Описание
Thailand is a home to many large and small players within the food and agriculture industry.  This sector collectively employs nearly a third of the country's workforce and contribute to 12% of its GDP.  Much progress has been made towards strengthening Thailand's food systems, evidenced by the sector's readiness to respond to the current COVID-19 pandemic and other sustainability metrics, which have shown significant improvement over the years.
However, the majority of Thai food businesses of all sizes are still unfamiliar with the food systems approach, including the 5 Action Tracks, proposed by the UN Food Systems Summit to drive our food systems towards a more sustainable path.  This dialogue is aimed at facilitating exchanges of ideas and experience, familiarizing the participants with the UN Food Systems Summit process and the thinking behind the Action Tracks.
Благодарности
Mr Rapibhat Chandarasrivongs, Deputy Permanent Secretary, Ministry of Agiculture & Cooperatives; Dr. Vanida Khumnirdpetch, Director, Bureau of Foreign Agricultural Affairs.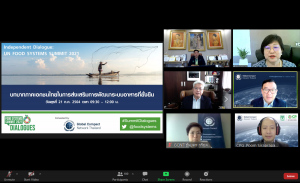 Изображение: Global Compact Network Thailand