Официальная обратная связь диалога для Саммита ООН по продовольственным системам 2021 года
Последнее обновление:
Загрузить PDF
Организатор
Paula Caballero (Rare), Deon Nel (WWF Netherlands), Gábor Figeczky (IFOAM-Organics International)
Язык диалога
English, Spanish, others TBC
Дата/время
Начало
Окончание
Формат
Онлайн
Просьба ознакомиться с приводимыми ниже данными для получения регистрационной информации, если таковая имеется, или обратитесь к руководителю диалога, если желаете принять участие.
Куратор
Paula Caballero (Rare)
Описание
This Independent Food Systems Summit (FSS) Dialogue discusses nature-based and behavior-centered solutions in smallholder productive sectors as one of the key ingredients to achieving sustainable food systems. The dialogue focuses on biodiversity as the foundation of sustainable food systems and agroecological approaches as a key pathway to achieve nature-positive production and to support small-scale farmers' agency, livelihoods, entrepreneurship, and culture. Combined, these aspects build and scale climate- and biodiversity friendly food production systems globally.  
Building on tangible examples, such as the ones unearthed under the global Farming for Biodiversity project and recently published Farming with Biodiversity report, the event offers a multistakeholder forum for local leaders, practitioners, researchers, private sector, donors and policy makers. Together, we will discuss what is needed for small-scale producers to adopt and scale agroecological approaches for nature positive production and resilient food systems. Outcomes of the event feed into the discourse, partnerships and solutions of the UN Food Systems Summit under Action Track 3 and other globally relevant actions around small-scale agricultural solutions
Благодарности
Rare, WWF, IFOAM - Organics International.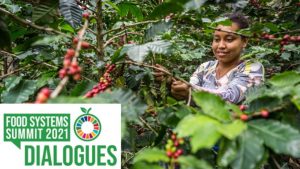 Изображение: Jason Houston for Rare