Официальная обратная связь диалога для Саммита ООН по продовольственным системам 2021 года
Последнее обновление:
Загрузить PDF
Организатор
Dr. Mutisungilire Kachulu (FAO) and Dr. Shakuntala Haraksingh Thilsted (WorldFish)
Дата/время
Начало
Окончание
Формат
Онлайн
Просьба ознакомиться с приводимыми ниже данными для получения регистрационной информации, если таковая имеется, или обратитесь к руководителю диалога, если желаете принять участие.
Куратор
Ms. Karisha Chakma (FAO)
Описание
The Independent dialogue, "Transformation and Future of Aquatic Food Systems in Bangladesh", is co-organized by the Food and Agricultural Organisation and the WorldFish, with participation of many stakeholders, including fish farmers and fishing communities, fish processors and marketers, consumer representatives, policy makers, research institutions, and development partners including national and international organisations in Bangladesh.
The aim of the dialogue is to develop an understanding of the specific challenges faced by the fisheries and aquaculture sector, contribute possible necessary actions, and come up with a set of policy recommendations that will leverage the aquatic food systems capacity to contribute to the attainment of SDGs in Bangladesh in coming years.
The dialogue will be organised around four thematic areas and focus groups: These include: 1) Aquatic food systems, food & nutrition security, and sustainable consumption; 2) Nature-positive production, reducing vulnerabilities, building resilience against shocks and stress; 3) Ensuring equitable livelihoods in aquatic food systems; and 4) Governance and policy dimensions of aquatic food systems in Bangladesh. A dialogue report with participants' suggested actions, and policy recommendations, will feed into the development of a consolidated country report and contribute to the development and growth of the aquatic food systems in Bangladesh.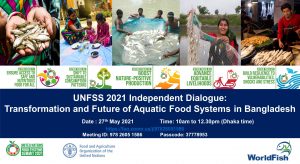 Изображение: Ben Wismen (WorldFish for flyer) and WorldFish (photos on flyer)