Официальная обратная связь диалога для Саммита ООН по продовольственным системам 2021 года
Последнее обновление:
Загрузить PDF
Организатор
Joan Kerr and Ntiokam Divine
Дата/время
Начало
Окончание
Формат
Онлайн
Просьба ознакомиться с приводимыми ниже данными для получения регистрационной информации, если таковая имеется, или обратитесь к руководителю диалога, если желаете принять участие.
Описание
Introduction
In 2011, the Foundation for Building Sustainable Communities (FBSC) initiated its Food and Agriculture Programme to grow food for donations to local food banks by creating a demonstration site. From the very beinning, it became extremely clear that the lack of farming and gardening skills was very low. To encourage community participation, a volunteer training program was developed using the Victory Garden because of its proven results for food & nutrition security in both World Wars.
A Timely Solution
FBSC developed the Climate Smart Victory Garden Training Program to implement its mandate of preserving & repairing the environment, and to ameliorate the living conditions of the underprivileged.  The Climate Smart Victory Garden (CSVG) is a social, environment and economic Education Programme for community members to learn and lead a sustainable and healthy lifestyle, protect the environment, and connect with each other for social belonging. The Program's goal is to build self sufficiency and local prosperity that can be replicated in many communities worldwide. While it is based on the historic British Dig In civic engagement and food security campaign, the CSVG also integrate the issues of climate change, off-grid technological solutions, nutrition security, the Sustainable Development Goals, and Entrepreneurship
The Climate Smart Victory Gardens is responsive to the Food Summit Tracks goals and objectives and will create a Food Knowledge Hub to:
Ensure access to safe and nutritious food for all
The comprehensive training program includes all aspects of growing a Climate Smart Victory Garden, from planning, designing, growing for nutrient value, cooking, storing and operating a Victory Market Garden to enable communities or individuals to grow their own local food.
Shift to sustainable consumption patterns
Webinars and toolkit, knowledge sharing to support traditional skills such as sewing, baking and Do It Yourself (DIY) to encourage reduction for packaging, chemicals and wasting food as basic ways to start the change in consumption patterns
Boost nature-positive production;
Increase awareness of Nature Based Solutions and pollination strategies
Advance equitable livelihoods;
Training in Entrepreneurship and business strategies
Build resilience
Foster and develop the  Art of Observation, Journalling, Adaptation and Mitigation to build resilience
Благодарности
Angela Nuhn, Pauline Christian,.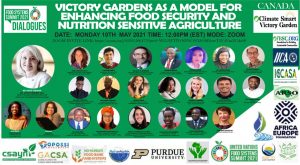 Изображение: Erick Otiene