Официальная обратная связь диалога для Саммита ООН по продовольственным системам 2021 года
Последнее обновление:
Загрузить PDF
Виды диалогов
Межгосударственные
Организатор
The Organisation of African, Caribbean and Pacific States (OACPS) and Food and Agriculture Organisation of the United Nations (FAO) Liaison Office to the European Union and Kingdom of Belgium
Дата/время
Начало
Окончание
Формат
Онлайн
Просьба ознакомиться с приводимыми ниже данными для получения регистрационной информации, если таковая имеется, или обратитесь к руководителю диалога, если желаете принять участие.
Куратор
Cristelle Pratt, Assistant Secretary-General for Environment and Climate Action
Описание
Termed as a "People's Summit", the summit is a call to action for all actors globally, to work together and take action to transform the way the world produces, consumes and thinks about food. The Organization of African, Caribbean and Pacific States (OACPS), brings together 79 member states, and are a crucial constituency in the global food system, comprising Small Island Developing States, Least Developed Countries, and Landlocked Developing Countries. The six regions of the OACPS span a large swathe of the Blue Planet and encompass some of the most vulnerable communities affected by environmental and developmental challenges – including those imposed by the climate crisis causing high levels of food insecurity.
With agriculture and the blue economy providing potential in OACPS countries to promote economic growth, social inclusion and protection of livelihoods and wellbeing, the re-imagining and transformation of OACPS food systems is needed to achieve the Sustainable Development Goals.
To prepare for the UNFSS, an OACPS High-Level Dialogue is being held to complement dialogues being convened at country and regional levels in and across the OACPS. While mindful of the action tracks guiding the UNFSS for food systems transformation, Co-convened by FAO Liaison Office to the EU and Belgium, the OACPS Dialogue will focus on: Ensuring access to safe and nutritious food for all, and, Building resilience to vulnerabilities, shocks and stress, embracing cross-cutting priority themes of:
Food Systems Resilience
Climate Resilient development pathways for food system transformation
Sustainable food systems to provide healthy diets for all
Development of high value chain commodities
TO REGISTER, please use the link below:
You are invited to the OACPS FOOD SYSTEMS HIGH-LEVEL DIALOGUE.
When: July 6, 2021 20:00 Brussels
Register in advance for this meeting:
https://zoom.us/meeting/register/tJckceiurT4jEtUA0syYqMZ5mbZYO_u76ep5
After registering, you will receive a confirmation email containing information about joining the meeting.
Speakers will include:
George Rebelo Chikoti
Secretary-General, Organisation for African, Caribbean and Pacific States (OACPS)
Paul Valentin Ngobo
Minister for Agriculture of the Republic of the Congo
Agnes Kalibata
United Nations Food Systems Summit Special Envoy
Stanislav Raščan
Minister for Development Cooperation a.i. of the Republic of Slovenia, Presidency of Council of the EU
Marjeta Jager
Deputy Director-General, European Commission Directorate-General for International Partnerships (DG INTPA)
Máximo Torero Cullen
Chief Economist, Food and Agriculture Organization (FAO)
Stuart Minchin
Director-General, Pacific Community
Godfrey Bahijgwa
Director of the Department of Rural Economy and Agriculture, African Union Commission
Moses Mose
Chair of the OACPS Committee of Ambassadors
Cristelle Pratt
Assistant Secretary-General for Climate Action and Environment, Organisation for African, Caribbean and Pacific States (OACPS)
Ricardo Mena
Director, United Nations Office for Disaster Risk Reduction (UNDRR)
Temo Waqanivalu
Technical Officer, World Health Organization (WHO)
Lench Fevrier
Technical Specialist, Agriculture, OECS
Paulo De Lima
FAO Liaison Office in Brussels
Moderator
Pauline Brandt
Journalist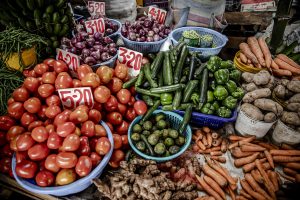 Изображение: FAO