Официальная обратная связь диалога для Саммита ООН по продовольственным системам 2021 года
Последнее обновление:
Загрузить PDF
Организатор
Center for Indonesian Policy Studies
Язык диалога
Bahasa Indonesia
Дата/время
Начало
Окончание
Формат
Онлайн
Просьба ознакомиться с приводимыми ниже данными для получения регистрационной информации, если таковая имеется, или обратитесь к руководителю диалога, если желаете принять участие.
Куратор
Arumdriya Murwani (Center for Indonesian Policy Studies)
Описание
Center for Indonesian Policy Studies (CIPS) kembali hadir dengan gerakan Hak Makan Murah atau disingkat sebagai Hak MakMur untuk mendorong pemerintah dalam mereformasi kebijakan yang dapat menciptakan keterjangkauan harga pangan berkualitas bagi konsumen, pedagang kecil, hingga petani dari keluarga kurang mampu. Kali ini, CIPS akan menggelar Food Systems Summit Independent Dialogue, sebuah dialog independen dalam membahas sistem pangan dalam pemenuhan hak atas pangan masyarakat Indonesia, terutama bagi masyarakat berpendapatan rendah.
Didukung oleh Friedrich Naumann Foundation (FNF) Indonesia dan Kementerian Hukum dan Hak Asasi Manusia (Kemenkumham) Republik Indonesia, dialog ini dilaksanakan sebagai bagian dari upaya CIPS dalam mendukung United Nations Food Systems Summit yang akan diselenggarakan pada bulan September 2021.
Dialog pertama ini akan mengangkat tema Action Track 1: "Ensure access to safe and nutritious food for all". Action Track 1 berfokus pada pemberantasan kelaparan, segala bentuk malnutrisi dan mengurangi kejadian penyakit tidak menular (PTM). Action Track 1 ingin mewujudkan ketersediaan makanan aman dan terjangkau bagi seluruh penduduk, pada setiap waktu.
Ruangan Zoom hanya tersedia untuk 100 orang yang memasuki Zoom. Daftar segera dan Anda akan mendapatkan email otomatis dari Zoom untuk tautan ke ruangan.
Daftar segera di: https://cutt.ly/FSS-30Jun
Untuk informasi lebih lanjut, kunjungi dan ikuti kami di: www.cips-indonesia.org, Facebook, Twitter, Instagram, dan LinkedIn.
Благодарности
This dialogue is supported by Friedrich Naumann Foundation (FNF) Indonesia and the Ministry of Law and Human Rights of The Republic of Indonesia.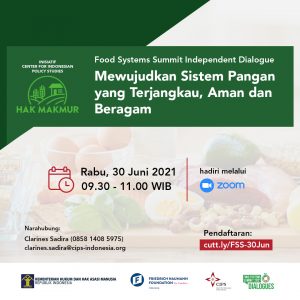 Изображение: Center for Indonesian Policy Studies