Организатор
Mr. Aamanur Rahman, Director-Extreme Poverty Program, CARE Bangladesh and Mr. Jib Sharma, Emergency Coordinator, CARE Nepal
Язык диалога
English with Bangla and Nepali Translation
Дата/время
Начало
Окончание
Местоположение
Bangladesh, Nepal
Формат
Онлайн
Просьба ознакомиться с приводимыми ниже данными для получения регистрационной информации, если таковая имеется, или обратитесь к руководителю диалога, если желаете принять участие.
Описание
Globally smallholder farmers contributed more than 80% to food production/ food security. However, many farmers in the global south still pursue subsistent agriculture, leaving them at the bottom of the poverty pyramid. Access to seed/ farm inputs, access to finance, small farm friendly technology, a policy framework to safeguard fair price of farmers' produce, absence of risk, and shock sensitive business model have straitjacketed the socio-economic situation of the smallholder farmers and producers, including women.
2nd wave of COVID-19 imposed multiple burdens on the farmers' life and livelihood. The supply chain has been disrupted; farmers could not harvest their produce as per plan, they are forced to sell their produces at a lower price. On the other hand, many of the farmers' households have to skip meals to cope with the situation. Though the impact of the pandemic in many southern countries was worse in urban areas, the returnee migrants from the urban areas have created an additional burden on the rural food security and livelihood settings.
In this backdrop UN Secretary-General convened a Food System Summit in October 2021 to discuss on the pressing issues. In the run-off of this summit, this regional farmers dialogue is being held to share the pragmatic concerns of the smallholder farmers and producers with the wider policy stakeholders.
Dialogue Objective
This regional dialogue aims to create a space where smallholder farmers in South Asian nations (Nepal and Bangladesh in particular) could share their experiences with each other and their voices are heard and reflected to the regional and national processes of UN Food System Summit.
Благодарности
Farmers organizations, agro-forest users group, land rights movement, right to food movements, agro-entrepreneurs in Bangladesh and Nepal.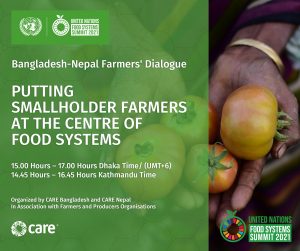 Изображение: Akram Ali, CARE B