Организатор
Consultant, Alessandro Meschinelli, Global Forum on Agricultural Research and Innovation (GFAR)
Дата/время
Начало
Окончание
Город
Rome, Metropolitan City of Rome, Italy
Формат
Онлайн
Просьба ознакомиться с приводимыми ниже данными для получения регистрационной информации, если таковая имеется, или обратитесь к руководителю диалога, если желаете принять участие.
Куратор
Executive Secretary, Hildegard Lingnau, Global Forum on Agricultural Research and Innovation (GFAR)
Описание
Partners in GFAR are holding a side event to FAO's UNFSS 2021 Science Days to discuss how current trends towards transforming research and innovation need to be more inclusive of local and indigenous knowledge systems. The discussion will focus on the paradigm shift required towards democratizing research and innovation to produce transformative knowledge for agroecology, food sovereignty and biocultural diversity.  The aim is to highlight the depth of farmers' expertise in cultivating traditional crops—so called 'forgotten foods'—as sources of a nutritious and stable food supply. A new approach is needed to not only to put forgotten foods on-the-radar of research but also to fully unleash their potential to contribute ensuring better access to safe and nutritious food for all and building resilience to vulnerabilities, shocks and stresses.
Благодарности
The Alliance of Bioversity and CIAT; Crops for the Future; Asia Farmers Association; Asia Pacific Association of Agricultural Research Institutions; M.S. Swaminathan Research Foundation; Association of Agricultural Research Institutions in the Near East and North Africa; Forum for Agricultural Research in Africa.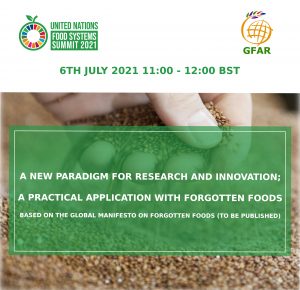 Изображение: ©FAO/Alessia Pierdomenico