Официальная обратная связь диалога для Саммита ООН по продовольственным системам 2021 года
Последнее обновление:
Загрузить PDF
Организатор
CNS-FAO; WFSC, ETH Zurich; Bioversity International-CIAT Alliance; IRPAD; World Food Forum; FAO; IDDRI
Дата/время
Начало
Окончание
Формат
Онлайн
Просьба ознакомиться с приводимыми ниже данными для получения регистрационной информации, если таковая имеется, или обратитесь к руководителю диалога, если желаете принять участие.
Описание
In various UNFSS Action Tracks and Food System Dialogues, agroecology emerged strongly as a key concept for inclusive food systems transformation by fostering the diversity of knowledge systems, ecosystems and nutrition.There is increasing evidence that agroecology is a powerful strategy to reduce trade-offs between productivity and sustainability, and achieve market-driven compensation for positive externalities. One of its central characteristics is diversity. Although results are mixed and further research is needed, a positive relation between agricultural diversification and diversified diets, is true for many different farming systems. This side event aims to share knowledge and evidence on agroecology, and to identify and discuss knowledge and implementation gaps. Potential pathways and changes in framework conditions to foster diversity in knowledge systems, ecosystems and nutrition to allow for a sustainable food systems transformation will be discussed.
For more information and to register for the webinar, click here: https://lnkd.in/dCXe6A8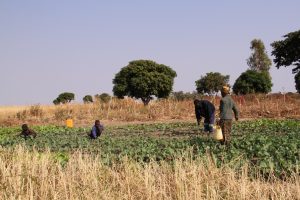 Изображение: Alliance of Bioversity International and CIAT