Официальная обратная связь диалога для Саммита ООН по продовольственным системам 2021 года
Последнее обновление:
Загрузить PDF
Организатор
Convenor: Amb. Lambo Hosea Chun. Co-Convenor: Amb Taiye Sasona, Executive Director, Abundance of Hope Initiative
Дата/время
Начало
Окончание
Формат
Очный
Просьба ознакомиться с приводимыми ниже данными для получения регистрационной информации, если таковая имеется, или обратитесь к руководителю диалога, если желаете принять участие.
Куратор
Amb. Lambo Hosea Chun and Abundance of Hope Initiative
Описание
The dialogue event will focus on the links between the first three objectives of the summit which seeks to find sustainable systems in food production with regards to how we Grow, Share and Consume our food.
The event will focus on these three key aspects of food production thereby looking into sustainable systems such as Backyard Farming which ensures access to safe and nutritious food for all from the backyard using organic resources for both rural and urban dwellers.
The dialogue will also delve into the links between food producers and and consumers with a view to making it flexible to increase access to safe and nutritious food and on time, as well as proper solutions/alternative consumption patterns to boost healthy living. Soil additives such as Organic Fertiliser that help produce healthy foods with even local resources will also be discussed as a better alternative to inorganic Fertiliser.
This dialogue will also raise awareness of food system's centrality to the entire sustainable development agenda and the urgency of transforming food systems particularly in the wake of a global pandemic. After a year of global fright, caused by the shock of Covid-19, we are raising awareness on the urgency to channel our anxieties, fears, hunger and importantly, our energies into action and wake up to the fact that by transforming food systems to be more healthier, more sustainable and inclusive, we can recover from the pandemic and limit the impact of future crisis.
Благодарности
Chun Lambo Foundation, Amb. Taiye Sasona, Abundance of Hope Initiative.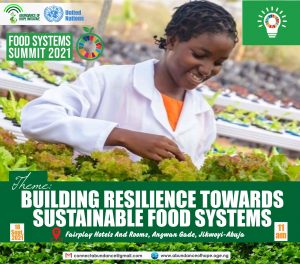 Изображение: Chun Lambo Photography