Организатор
Dr Daniel Mahadzir, U-Inspire Alliance and Youth UNESCO Climate Action Network
Дата/время
Начало
Окончание
Местоположение
Canada, Kenya, Malaysia, No borders, Thailand
Формат
Онлайн
Просьба ознакомиться с приводимыми ниже данными для получения регистрационной информации, если таковая имеется, или обратитесь к руководителю диалога, если желаете принять участие.
Куратор
Dr Daniel Mahadzir, U-Inspire Alliance and Youth UNESCO Climate Action Network
Описание
There is a silver lining to the coronavirus pandemic. With large stimulus worldwide to counter the economic fallout from this pandemic, this can be the chance in which humanity works towards accelerating the transition of the linear food systems to circular food systems, ones in which value can be created rather than be diminished. Value and wealth creation from upcycling can spread wealth equity to all as we pivot away from the unspoken economic axiom of "tragedy of the commons", as a consequence of linear economy.
To mitigate against unintended consequences as humanity is piloting their linear economy towards that of a circular economy, we need to incorporate a more nature-positive approach to wealth equity and wealth creation. Why is that so? Over hundreds of millions of years, evolution has created some of nature's most efficient and value creating agents of circular economy like insects, mushrooms, and yeasts. If evolution is a self-defeating process, these agents would have gone extinct long time ago anyway.
Most organic liquid and solid wastes that we are producing these days are nutrient-rich, with lots of nitrogen and phosphorous compounds. Without the environmental fallout of needing more chemical fertilisers and mining of phosphate minerals, upcycling these nutrients using mother nature's specially designed agents of upcycling, will prevent nutrient run-off that would otherwise cause massive soil and water pollution. The solutions that are presented here abide by the best practice of "Food Recovery Hierarchy", which US EPA is a major proponent of. Depending on the economies of scale, the available capital, and risk appetite, the values that the solutions here can deliver ranges from USD$200 per tonne, and can be as high as USD$10,000 per tonne.
This dialogue brings together changemakers selected for Food System Game Changer under the theme of upcycling. These 4 experts in the field will explore the anecdotal reports emerged on food wastage during the pandemic. Their idea focuses on circular food economy where food waste becomes valuable, affordable healthy food becomes accessible to everyone and innovation uses a regenerative approach to how food and other valuable resources are produced, distributed and consumed. So let's ask ourselves how can we stop the modern food system being out of sync with the cycles seen in nature that have been inherent in food production practices for thousands of years?
Благодарности
Karen Schuett, Co-Founder and CEO of Livestock Water Recycling; Proscovia Alando, Co-Founder and Head of Business Development of Ressect; Peter Hamilton, Co-Founder and CEO of Biovert Protein; Chian Wen Chen, Founder and CEO of Prebio-Tech.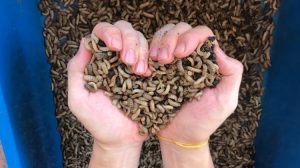 Изображение: Dr Chian Wen Chen, Founder and CEO of Prebio-Tech