Официальная обратная связь диалога для Саммита ООН по продовольственным системам 2021 года
Последнее обновление:
Загрузить PDF
Виды диалогов
Государства-члена
Организатор
Dr Masoud J. Al Marri
Язык диалога
Arabic - English
Дата/время
Начало
Окончание
Город
7GRM+CQG, Doha, Qatar
Формат
Очный
Просьба ознакомиться с приводимыми ниже данными для получения регистрационной информации, если таковая имеется, или обратитесь к руководителю диалога, если желаете принять участие.
Описание
Qatar Food System National Dialogue will discuss four themes: resilience, nature positive production, equitable trade and food safety. Each discussed in one panel session. Sessions are hybrid, pre-registered participants present in the venue as well as on-line.
Благодарности
Ministry of Municipalities and Environment, Ministry of Economy and Commerce, Hassad Food, and Ministry of Public Health.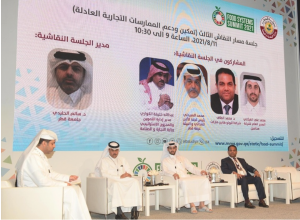 Изображение: The Peninsula, 12 Aug 2021 - 8:55