Официальная обратная связь диалога для Саммита ООН по продовольственным системам 2021 года
Последнее обновление:
Загрузить PDF
Организатор
International Institute of Rural Reconstruction (IIRR), Philippine Society of Nutritionist-Dietitians (PSND), Inc., Philippine Coalition of Advocates for Nutrition Security, SUN-Civil Society Alliance Philippines, & PROLINNOVA Philippines Country Platform
Дата/время
Начало
Окончание
Город
Silang, Cavite, Philippines
Местоположение
Philippines
Формат
Онлайн
Просьба ознакомиться с приводимыми ниже данными для получения регистрационной информации, если таковая имеется, или обратитесь к руководителю диалога, если желаете принять участие.
Куратор
Ms. Apple Espino, Incoming Associate Postgraduate Researcher, UK Food Systems Center for Doctoral Training (UKFS-CDT) Programme; Former Consultant, World Health Organization
Описание
Background and Rationale
The Philippines is among the countries in the Asia-Pacific region that has to face various challenges related to climate change. Over the past decades, there has been a continued rise in surface temperature, persistent droughts and devastating flooding, leading to economic losses in agriculture, infrastructure and livelihoods. Studies prior to the COVID-19 pandemic estimated that 2 million more Filipinos will be at risk of hunger due to climate change by 2050 (Sample, 2016).
The COVID-19 pandemic is an unprecedented event that caused lives, and has affected the livelihoods of millions working in all sectors. The disruption in the food supply brought by COVID-19 related restrictions has impacted the operations of the food system, and the impact has affected food-related operations and households, especially those dependent on subsistence farming, and those suffering from poverty.
Climate change and health emergencies such as the COVID-19 are considered as stress and shocks in the food system, whose effects would become worse in the coming years. Transforming the food system into one that can respond to vulnerabilities, shocks, and stress, is crucial. The role of governments, organizations, the education sector, local food producers, youth, professionals and households at the local level is important, and their commitment and contributions to create a more robust and resilient food system is recognized, now more than ever.
Thus, the International Institute of Rural Reconstruction (IIRR), in partnership with the Philippine Society of Nutritionist-Dietitians, Inc. (PSND), Philippine Coalition of Advocates for Nutrition Security (PhilCAN), Scaling Up Nutrition-Civil Society Alliance Philippines (SUN-CSA PH) and PROLINNOVA Philippines Country Platform (PROLINNOVA), will convene an Independent Food Systems Dialogue to solicit concrete actionable commitments from various stakeholders as their contribution to the quest to ensure safe and nutritious food for all.
Specifically, the dialogue objectives are:
To provide a local perspective on the socio-economic and nutrition outcomes of Local Food systems;
To identify shocks and stresses in the local food system;
To identify adaptation and mitigation innovations and strategies employed by the local groups;
Identify concrete commitments of local civil society organizations/ groups to building local food systems resilient to vulnerabilities, shocks, and stress, by 2030.
Ultimately, the dialogue conveners aim to contribute in collecting and amplifying the voice of marginalized groups to the upcoming UN Food Systems Summit which will be convened by UN Secretary-General António Guterres in September 2021. This is in line with the Decade of Action to achieve the Sustainable Development Goals (SDGs) by 2030. Everyone is invited to participate in the various pre-summit dialogues to define the future of our food systems. Independent Dialogues, like the other types of dialogue, directly inform the Summit process.
Methodology:
The Dialogue will employ a mix of virtual and small group face-to-face (F2F) discussion methods to give voice to grassroots groups who may have connectivity challenges. F2F Pre-dialogue FGDs will be conducted by partner organizations from August 23 to Sept 3, 2021.
Main Dialogue proper. On 9 September 2021, representatives from the Pre-dialogue FGDs will participate in the virtual Dialogue proper to share their group's insights and commitments. Representatives from other sectors such as extension agencies, youth, local government agencies, schools, and others will also be invited. Participants will be invited with an RSVP to ensure manageable size of the discussion group. Updates will be posted in the the Facebook event page (https://fb.me/e/1KQYqMfga).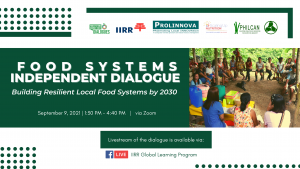 Изображение: IIRR