Официальная обратная связь диалога для Саммита ООН по продовольственным системам 2021 года
Последнее обновление:
Загрузить PDF
Виды диалогов
Государства-члена
Организатор
Hon. Dr. Dil Bahadur Gurung, Member, National Planning Commission
Дата/время
Начало
Окончание
Формат
Онлайн
Просьба ознакомиться с приводимыми ниже данными для получения регистрационной информации, если таковая имеется, или обратитесь к руководителю диалога, если желаете принять участие.
Куратор
Dr. Krishna Prasad Acharya, Secretary, Ministry of Agriculture and Livestock Development, Nepal
Описание
The Government of Nepal has given high priority to ensure access to affordable, healthy and nutritious food for all Nepalese citizens. Despite such a high priority and all the efforts, full realization of this priority is yet to be achieved. In this backdrop, the UN Food System Summit 2021 has become as an important opportunity for Nepal to examine food systems and identify pathways for the transformation of the systems to make it equitable, sustainable and resilient and to achieve the national priority. Following this spirit, National Planning Commission has organized first National Food System dialogues and seven provincial and second national dialogues on the theme «Nepal towards an equitable, resilient and sustainable food system». Now, a third national dialogues is planned on 13 August 2021 to review the consolidated outputs from the earlier dialogues, shape the national pathways, prioritize the actions for coming three years, and get commitments from stakeholders to contribute to the process for transforming the food systems in Nepal. There will be six discussion groups representing five action tracks and a policy environment. Under policy environment, the group will synthesize key actions related to the effective implementation of Right to Food and Food Sovereignty Act as a means and legal framework to ensure food governance for the sustainable food systems in Nepal.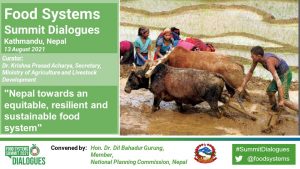 Изображение: NARMA Consultancy Private Limited, Nepal