Официальная обратная связь диалога для Саммита ООН по продовольственным системам 2021 года
Последнее обновление:
Загрузить PDF
Организатор
Monash University Department of Nutrition Dietetics and Food on behalf of the HEALTHY STORiES = GOOD FOOD working group
Дата/время
Начало
Окончание
Город
Melbourne VIC, Australia
Формат
Онлайн
Просьба ознакомиться с приводимыми ниже данными для получения регистрационной информации, если таковая имеется, или обратитесь к руководителю диалога, если желаете принять участие.
Куратор
Nicole Turner, Chair Indigenous Allied Health Australia
Описание
This dialogue will feature 'good food store' stories from around remote Australia highlighting the innovative and emerging approaches to the challenges experienced by community stores in providing a healthy and affordable food supply and foster critical discussion among Aboriginal and Torres Strait Islander Peoples and community allies on the role of stores for community food security.
It will feature stories from:
Bidyadanga Community Store in Northern Western Australia on the use of nutrition promotion and social marketing for increasing healthy food sales
Alcoota and Ali Curung in Northern Territory on sugar reduction strategies and community store policies
Santa Teresa in Northern Territory on in-store nutrition promotion
The Arnhem Land Aboriginal Corporation and the Healthy Stores 2020 initiative
Благодарности
The Arnhem Land Progress Aboriginal Corporation, Megan Ferguson PhD The University of Queensland, Julie Brimblecombe Assoc Professor Monash University, Raelene Banks Traditional Owner Bidyadanga, Boab Health Services, Uncle Jimmy Thumbs Up!.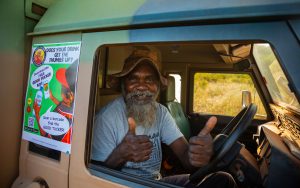 Изображение: Oliver 'Ollie' Ankin Bawinanga Aboriginal Corporation. Photographer: Light Tree Media