Организатор
John Aggrey - Founder and CEO of HIRED Consult
Дата/время
Начало
Окончание
Местоположение
Ghana, No borders
Формат
Онлайн
Просьба ознакомиться с приводимыми ниже данными для получения регистрационной информации, если таковая имеется, или обратитесь к руководителю диалога, если желаете принять участие.
Куратор
Esther Wanza - Africa Regional Focal Point, MGCY (Youth Focus Group to UNFSS)
Описание
A robust and resilient food system, with a blend of (subsistence and commercialized) has the potential of being profitably productive. This has become necessary at a time when food systems across the continent are responding to rapid urbanization, rising incomes, and changing diets (consumption and production).
Hosted by HIRED Consult and Major Group for Children and Youth (Youth Focus Group to UNFSS) in collaboration with the Global Alliance for Climate Smart Agriculture (GACSA), Friends for Leadership (#FriendsforFood), Africa Climate Reality Project, Food at COP, and YOUNGO Agriculture Working Group, convenes this youth-led Independent Dialogue on the theme, «Transformational Changes in Bolstering African Food Systems.»
With the UN Food Systems Pre-Summit over, what interventions and key solutions do we take from it to bolster and transform our Food Systems.
JOIN us on August 20, 2021 01:00 PM  UTC as we discuss and identify game changing solutions for #Africa
REGISTRATION REQUIRED👉 https://bit.ly/africanfoodsystems
#UNFSS2021
#SummitDialogues
#GoodFood4All
#FoodSystems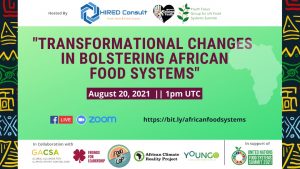 Изображение: Poster Design Credit: John Aggrey