Официальная обратная связь диалога для Саммита ООН по продовольственным системам 2021 года
Последнее обновление:
Загрузить PDF
Организатор
Zeyuan Wang, Ph.D. student at the Unviersity of Toronto; Mengyao Ma, master student in the Institute of environmental development, Chinese Academy of Agricultural Sciences; Good Food Fund China
Язык диалога
Chinese; with the possibility to open an English discussion group if there are enough English speaking participants, please contact.
Дата/время
Начало
Окончание
Формат
Онлайн
Просьба ознакомиться с приводимыми ниже данными для получения регистрационной информации, если таковая имеется, или обратитесь к руководителю диалога, если желаете принять участие.
Описание
活动介绍  Introduction
中国是一个具有56个民族的多民族国家。由于特殊的地理,自然和文化背景,很多少数民族在与自然的长时间和谐共处中都有自己的传统食品和医学并且不被外界所熟知。然而,由于现代化和城市化进程的加快,我们在取得一个个举世瞩目的发展成就的同时,很多少数民族的传统饮食和医学正在消失,尤其是年青一代,很多已经不懂得如何按照传统的方式,从自然中获取食物和药材,甚至已经不会说自己的民族语言。这些都是人类饮食多样性,生态多样性和文化多样性的重大损失。据研究显示,提升饮食多样性可以显著改善营养状况。因此,十分有必要将少数民族的传统饮食和医药记录下来。这些珍贵的知识很有可能会在未来的某一天发挥重大的价值和作用。比如说,牛油果和藜麦,目前两种很流行并被认为很健康的食物,都源自秘鲁的原住民部落。此外,如果能够记录和发掘出更多的传统食物,也很可能会帮助人类应对自然灾害和食物危机,增加人们的环保意识。
China is a multi-ethnic country with 56 nationalities. Due to the special geographical, natural, and cultural background, many ethnic minorities have their own traditional food and medicine in the long-term harmonious coexistence with nature; and are not well-known by the outside world. However, due to the acceleration of modernization and urbanization, while China has made remarkable development, the traditional diet and medicine of many ethnic minorities are disappearing, especially among the young generation. Many of them do not know how to obtain food and medicinal materials from nature in the traditional way and even can't speak their own national languages. These are the major losses of human dietary diversity, ecological diversity, and cultural diversity. According to research, improving dietary diversity can significantly improve nutritional status. Therefore, it is very necessary to document the traditional diet and medicine of ethnic minorities. This precious knowledge is likely to play a significant value and role one day in the future. For example, avocado and quinoa, two popular and considered healthy foods, originated from indigenous tribes in Peru. In addition, if more traditional foods can be recorded and discovered, it is likely to help mankind cope with natural disasters and food crises and increase people's awareness of environmental protection.
对话流程(Agenda):共120分钟 (120 mins in total)
1.欢迎词:少数民族传统饮食对于中国食物系统转型的意义;如何制作关于少数民族传统食物的纪录片 (10min)
演讲者:中国良食基金创始人 简艺
Welcome words: the significance of traditional diet of ethnic minorities for the transformation of China's food system; How to make a documentary about traditional food of ethnic minorities (10min)
Speaker: Mr. Jian Yi, founder of China Good Food Fund
2. 嘉宾讲话:为什么需要研究传统食物,在国际上有怎样的应用(10min)
演讲者:珍娜·肯尼迪博士,美国国际开发署通过食品系统提升营养的技术总监
Guest speech: why is it necessary to study traditional food and what is its international application (10min)
Speaker: Dr. Gina Kenndy, an employee of GAIN, seconded to USAID Advancing Nutrition as the Technical Director for Food Systems.
3. 中国的传统食物和少数民族营养现状概况 (5min)
     演讲者:多伦多大学博士 对话发起人 王泽远
Overview of traditional food and nutrition of ethnic minorities in China (5min)
Speaker: Wang Zeyuan, convenor, a doctoral student at the University of Toronto
4. 中国的少数民族食物的检测和应用案例 (10min)
演讲者:王琦 昆明医科大学教授
Detection and application cases of ethnic minority food in China (10min)
Speaker: Wang Qi, Professor of Kunming Medical University
5. 中国的膳食健康标准 介绍健康指南 (5min)
Introduction to Chinese dietary health standards and health guidelines (5min)
6. 少数民族分享地方特色食品 (三个少数民族案例共15min)
演讲者: 雀古拉 (哈萨克族); 纳扎开提(维吾尔族); 苏玉亩(布朗族)
Ethnic minorities share local indigenous foods (three ethnic minority cases, 15min in total)
Speaker: quegula (Kazak); Nazakati (Uygur); Su Yumu (Bulang)
7. 介绍分组讨论流程和话题(5min)
Introduce the group discussion process and topics (5min)
8. 分组讨论:三个话题,40min
Group discussion: three topics, 40min
9. 总结:10min
Summary: 10min
分组讨论议题 Discussion Topics
小组一:如何收集、记录和开发少数民族传统饮食?
由谁负责?怎么寻找?怎么记录?有哪些重要的元素?如何让大家知道这些食品?如何发挥这些食品的潜在价值?是否考虑和艺术结合?
Group 1: how to collect, record and develop the traditional diet of ethnic minorities?
Who is responsible? How to find it? How? What are the important elements? How to let everyone know about these foods? How to give play to the potential value of these foods? Is it considered to combine with art?
小组二:如何将少数民族食品与商业结合,实现可持续发展
如何将传统食物商业化批量生产?如何获益?Culinary tourism?
Group 2: how to combine minority food with commerce to achieve sustainable development?
How to commercialize mass production of traditional food? How to benefit? Culinary tourism?
小组三:使用传统食物中遇到的问题?
如何在城市获取传统食物?如何传承关于传统食物的知识?食用传统食物的优势和缺点?怎样克服这些遇到的问题?
Group 3: problems encountered in using traditional food?
How to get traditional food in the city? How to inherit knowledge about traditional food? Advantages and disadvantages of eating traditional food? How to overcome these problems?
产出 Outputs
1.按照民族为单位搜集少数民族的特色食物,以及其背后的医疗作用和文化含义。
2.召集更多有意愿有能力的人(最好具有生物医学背景),按照中国膳食健康标准,利用少数民族特色饮食,设计健康食谱,并汇集成册。
1. Collect the characteristic food of ethnic minorities, as well as the medical function and cultural meaning behind it.
2. Gather more willing and capable people (preferably with biomedical background) to design healthy recipes according to Chinese dietary health standards and ethnic minority characteristic diets, and collect them into a book.
参与方式:请联系组织者; 注明报名本次对话和想参加的小组讨论话题。
Participation method: please contact the convenor; please indicate the topic of this dialogue and the group discussion you want to participate in.
更多关于本次对话的内容将在之后持续更新。
More information about this dialogue will be updated soon.
Благодарности
Dr. Qi Wang, Kunming Medical University; Dr. Gina Kenney, Dr. Gina Kenndy, the Technical Director for Food Systems for USAID Advancing Nutrition; Mr. Yi JIan, the Director of Good Food Fund China.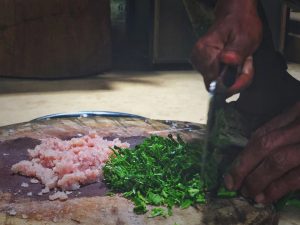 Изображение: Zeyuan Wang