Организатор
Co-hosted by The McGill Centre for the Convergence of Health and Economics and the Global Partnerships Forum
Дата/время
Начало
Окончание
Формат
Онлайн
Просьба ознакомиться с приводимыми ниже данными для получения регистрационной информации, если таковая имеется, или обратитесь к руководителю диалога, если желаете принять участие.
Куратор
Register in advance for this meeting: https://mcgill.zoom.us/meeting/register/tZIvfu2grj0vE9yyGy9hYAJf2Mk0BKxF-u_M
Описание
For Remote Participation, please register HERE
Register in advance for this meeting:
https://mcgill.zoom.us/meeting/register/tZIvfu2grj0vE9yyGy9hYAJf2Mk0BKxF-u_M
This event is the last in a series leading up to the UN Food Systems Summit (UNFSS), convening global scientists and thought leaders from business, government and civil society exploring the opportunities to transform our agriculture and food systems for equitable human and planetary health and wealth at the convergence of technological, social and delivery model innovation.
This series of events have been hosted by global partners advancing the principles of Food Convergence Innovation (FCI) convened by The McGill Centre for the Convergence of Health and Economics (MCCHE). Converging across a variety of disciplines and sectors, FCI is a research-action paradigm that is powered by artificial and human intelligence and creativity and operationalized through a worldwide network of transformational discovery & innovation platforms. The aim is to produce, promote and consume foods & beverages that sustain the health of people, the planet and the economy, enabling ongoing performance of agri-food businesses, sustainable development and affordable healthcare. FCI platforms to date are designing and taking action in Canada, India and West Africa.
Breakthroughs to meet the silo-busting ambitions of the Sustainable Development Goals (SDGs), occur when pioneering innovators connect, learn, and become inspired to combine their ideas into social, economic & technology concepts that realize bolder possibilities at the CI of food, health, and environment. Over the past year, thousands of Game Changing ideas have been articulated as part of the UNFSS Dialogue process. These have been incubated through convening organizations and experts along five UNFSS Action Tracks, mainly focused on food supply, food demand, food sustainability, building resilience to food system shocks and food system governance. In parallel, the FCI dialogues have sought to create the inter-disciplinary space to acknowledge and explore the important and dynamic interlinkages and dependencies of these action tracks, with a view to harnessing technological, social and delivery model innovations driving The Fourth Industrial Revolution around a portfolio of  concrete real-world solutions, capitalizing on the accelerated and deepened digital transformation of science and society to call for nothing less than a world reset on Convergence Economy (see appendix 1).
The UNFSS global and national dialogue processes have brought to the fore a rich variety of multi-country initiatives and multi-sector coalitions for action in both the north and Global South, to drive new ways to mobilise actors, prioritise actions, agree on roadmaps and channel resources that are emphasizing the need for data driven approaches, with real measures of sustainable outcomes; and the need to sharpen the roles of innovation and trade to improve productivity, nutrition, equity and sustainability of resilient food systems. A broad range of initiatives focused on accountability to results are being shaped and catalysed through shared objectives around Net Zero climate goals and climate smart financing of local initiatives, to investing in West African rice production, to accelerating innovations that improve access to alternative protein in diets, to integrated approaches that improve access to safe and nutritious foods.
The proposed UNFSS Food Convergence Innovation (FCI) Roundtable will link the ambitions of the UNFSS through the FCI lens and profile concrete action in this regard taken through recent initiatives in Canada and West Africa. It will be framed in the context of the 15th Anniversary of the MCCHE advancing Convergence Innovation in Health, Food and Economics and draw on perspectives from leaders shaping the CI spaces for food and health in Canada, Ghana and Nigeria that will serve as models and inspiration for embedding the outcomes of UNFSS into real-world action at the convergence of human and planetary health and wealth.
The vision for this event is to call for a silver lining to Covid 19 disruption of all types for a world reset on convergence economy (see Figure 2) through food innovation and food systems transformation,  building upon demonstrated Canadian leadership not only in science and technology but as trusted convener across sectors and jurisdiction for world-scale transformation. Convergence economy weaves the commercial, social, environmental and health/healthcare trajectories within and across sectors and jurisdictions, as well as in a person's mind, building resilience throughout, for lasting individual and collective wellbeing and fully acknowledging that developed and developing world share the same planet. Convergence economy is a requisite pathway to SDGs (Fig 3) and the accelerated digital transformation of science and society shown in COVID 19 response is a silver lining that humanity cannot afford missing at this point of its evolution.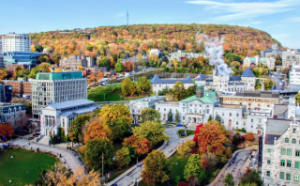 Изображение: McGill University