Официальная обратная связь диалога для Саммита ООН по продовольственным системам 2021 года
Последнее обновление:
Загрузить PDF
Организатор
DR. SARADA PRASAD MOHAPATRA/ MR. NTIOKAM DIVINE
Язык диалога
ENGLISH, FRENCH, SPAINISH, ODIA, HINDI
Дата/время
Начало
Окончание
Город
Bhubaneswar, Odisha, India
Формат
Онлайн
Просьба ознакомиться с приводимыми ниже данными для получения регистрационной информации, если таковая имеется, или обратитесь к руководителю диалога, если желаете принять участие.
Описание
This dialogue mainly adhered to Action track 4 of UNFSS where a thorough discussions will be carried out regarding Circular economy in Agriculture and how and to what extent it will be helpful for food system.
Благодарности
CSAYN Global.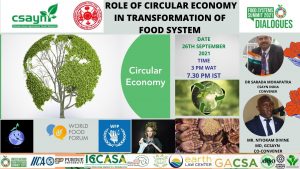 Изображение: DEPT OF ECONOMICS, NARASINGH CHOUDHURY AUTONOMOUS COLLEGE, JAJPUR, ODISHA, INDIA