Официальная обратная связь диалога для Саммита ООН по продовольственным системам 2021 года
Последнее обновление:
Загрузить PDF
Организатор
Ms Tiina Huvio, Convenor, Programme Director at Food and Forest Development Finland
Дата/время
Начало
Окончание
Формат
Онлайн
Просьба ознакомиться с приводимыми ниже данными для получения регистрационной информации, если таковая имеется, или обратитесь к руководителю диалога, если желаете принять участие.
Куратор
Mr Juha Ruippo, Curator, Managing Director at Food and Forest Development Finland
Описание
The independent dialogue examines Finland as part of the global food system and evaluates the means and models by which Finnish actors jointly can promote a more sustainable, just and inclusive food system. The aim with the dialogue is to increase our understanding of our impact and identify paths of change. The conclusions and proposals of the dialogue will be communicated not only to the FSS, but will also function as a starting point to the communication towards target groups selected by theme, improving understanding of dependencies and shaped values to support a more just and sustainable world.
Food and Forest Development Finland brings together NGOs, commercial and others food system actors. The initiative assesses the pathways of change in the food system without prejudice and without swaying different perspectives. The independent dialogue is coordinated with the national dialogue of Finland, managed by the Ministry for Agriculture and Forestry.
The dialogue builds on the key objectives of FSS: 1) ensuring access to safe and nutritious food for all; 2) shifting to sustainable consumption patterns; 3) boosting nature-positive production at sufficient scale; 4) advancing equitable livelihoods and value distribution, and 5) building resilience to vulnerabilities, shocks and stress.
More information about the dialogue (in Finnish only): https://www.ffd.fi/ruokajarjestelma-1
The dialogue will be held in Finnish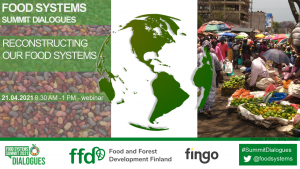 Изображение: FFD