Официальная обратная связь диалога для Саммита ООН по продовольственным системам 2021 года
Последнее обновление:
Загрузить PDF
Виды диалогов
Государства-члена
Организатор
1. Mr MUSABYIMANA Jean Claude, Permanent Secretary, Ministry of Agriculture and Animal Resources-Rwanda; 2. Dr NDABAMENYE Telesphore, Technical Advisor, Ministry of Agriculture and Animal Resources-Rwanda
Дата/время
Начало
Окончание
Формат
Онлайн
Просьба ознакомиться с приводимыми ниже данными для получения регистрационной информации, если таковая имеется, или обратитесь к руководителю диалога, если желаете принять участие.
Куратор
1. Mr MUHINDA Otto, FAO-Rwanda; 2. Dr MUREKEZI Charles, Ministry of Agriculture and Animal Resources-Rwanda
Описание
Among others, the Sustainable Development Goals (SDG) intend to end hunger, achieve food security, improve nutrition and promote sustainable agriculture production.  The dialogue aims to identify challenges and gaps as well as game changing solutions that ensure all people at all times have access to sufficient quantities of affordable, nutritious and safe food for nourishment and health.
Current policies and strategies in Rwanda (Nation Strategy for Transformation-NST1, Agriculture Policy, Strategic Plan for Agriculture Transformation-PSTA 4, Domesticated SDGs, National Nutrition Policy, Social Protection Policy, Nutrition-Sensitive Agriculture Guidelines) as well as agriculture and animal resources programs have promoted and or increased the production and accessibility of affordable and nutritious foods, and Rwanda is on-track in achieving Zero Hunger and ending malnutrition for all people by 2030. Nonetheless, the efforts need to be accelerated toward this goal.
The National Food Systems Dialogue on Action 1 will take place on the 30th March 2021, 09:00-11:30 am GMT+2 and will explore how the food systems should function for the future so as to achieve Zero Hunger, increase access to affordable and Nutritious food and Improve Food safety.  The National Dialogues will be framed around the following Topics to stimulate discussions, which will lead to the identification of ideas/game changing solutions.
Discussion Topic 1: What game changing actions should be implemented for increased availability and accessibility of nutritious foods?
 Aim: To identify challenges and potential game changing actions that will increase the production and availability of nutritious food, reduce inequalities, increase incomes and purchasing power of food system actors, increase accessibility, food utilization and minimize food loss and waste in a sustainable manner
 Expected Outputs and method: Game changing solutions to increase production and availability of nutritious food to achieve Zero Hunger and to increase the accessibility and affordability of nutritious food for all people identified in two Breakout Groups.  One group will focus of the availability of affordable and nutritious food while the another group will address increasing accessibility to affordable and Nutritious foods
Discussion Topic 2:  What are the challenges faced by Rwanda to increase Food Safety and what actions can be taken.
 Aim: To propose ideas to minimize food borne diseases due to unsafe food.
 Expected Outputs and method: Potential solutions to increase food safety will be identified in one breakout session.
Invitees will be drawn a cross-section of public and private stakeholders that are involved in or interface with Food Systems.  Notably the stakeholders shall include producers and their organizations, providers of services that impact food systems, ministries and their agencies, Non-Governmental Organizations, Civil Society, Development Partners and Consumers.
Благодарности
UN Resident Coordinator Office-Rwanda; UN team-Rwanda; AUDA-NEPAD, 4SD, MINAGRI (lead team), FAO (co-lead team), MINICOM, RDB, WFP; USAID PROJECTS (CNFA/HINGA WEZE & LAND O' LAKES), IITA.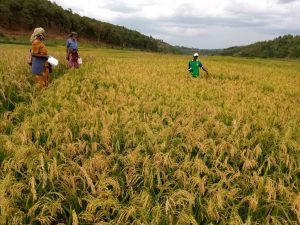 Изображение: Ministry of Agriculture and Animal Resources (Rwanda)