Официальная обратная связь диалога для Саммита ООН по продовольственным системам 2021 года
Последнее обновление:
Загрузить PDF
Организатор
Welthungerhilfe, India. CARITAS India, Revitalising Rainfed Agriculture Network and Bhoomi Ka
Язык диалога
English and Hindi
Дата/время
Начало
Окончание
Город
Ranchi, Jharkhand, India
Формат
Очный
Просьба ознакомиться с приводимыми ниже данными для получения регистрационной информации, если таковая имеется, или обратитесь к руководителю диалога, если желаете принять участие.
Куратор
Ms Sasmita Jena, Welthungerhilfe, India.
Описание
UN Food System Dialogue: Grassroots Perspectives from Jharkhand
An Independent Food Systems Summit Dialogue, India
10:00- 17:00; 13th April 2021, Viswa Hall, Kanke Road, Ranchi
Convened by Welthungerhilfe, Caritas and RRA Network in collaboration with Bhoomi Ka, Transforming Food Systems
 Our food system linkages are broken and inequitable. It is quite evident that they also play a major role in environmental degradation and health emergencies. The pandemic and its devastating impacts have brought these vulnerabilities into sharper focus. Yet, food systems also have immense potential to improve the health of our bodies, our economies and our environment. For this, it is vital to transform the way the world produces, consumes and thinks about food.
In pursuit of this goal, the United Nations Food Systems Summit 2021 is being convened as part of the Decade of Action to achieve the Sustainable Development Goals (SDGs) by 2030. Guided by five Action Tracks, the Summit will bring together key stakeholders. Food Systems Summit Dialogues are an important instrument for the same. These dialogues offer a purposeful and organized forum for stakeholders to come together to share their roles in food systems, consider their impacts on others and find new ways to support the SDGs. We are organising Food System Dialogue in Jharkhand with diverse group of stakeholders including farmers, community leaders, network leaders, CSOs, academician and government to guide individual and collective action towards a future of food that is sustainable, equitable and secure.
We invite you to join us in the dialogue on 13th April 2021 at 10:00 am. Considering Covid-19 restrictions and space availability, we have capacity of 60 participants. The focus of the discussion will be on 'Transforming Food Systems in Jharkhand'.
We look forward to your involvement in making this a stimulating and productive engagement.
Благодарности
PHIA foundation, PRAVAH, AVF, CWS, Department of Water and Sanitation - State Government of Jharakhand, Department of Agriculture - State Government of Jharakhand,.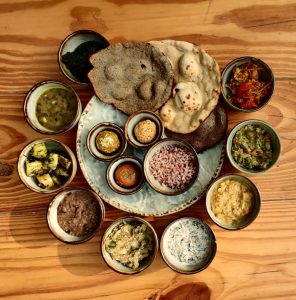 Изображение: Bhoomi Ka