بدعوة من
Scaling Up Nutrition Civil Society Alliance (SUNCSA) Pakistan Secretariat - Nutrition International
لغة فعالية الحوار
English & Urdu
المدينة
Islamabad, Pakistan
نطاق التركيز الجغرافي
Pakistan
التنسيق
على الإنترنت
يُرجى مراجعة التفاصيل أدناه للحصول على معلومات التسجيل إذا كانت متوفرة أو الاتصال بمنظم الحوار إذا كنت ترغب في الحضور.
القيّم
Ms. Aaliya Habib, Coordinator SUNCSA Pakistan - Nutrition International
الوصف
The success of the 2021 Food Systems Summit depends on the engagement of citizens all over the world. In Pakistan, a UNFSS secretariat has been established in the Ministry of National Food Security and Research and focal points for all action points were nominated to lead discussions on food system challenges in Pakistan regarding the respective action tracks by engaging all relevant stakeholders. Two national and four provincial dialogues. The dialogues resulted in a number of innovative and multisectoral solutions under all five action tracks.
Members of Scaling Up Nutrition Civil Society Alliance (SUNCSA) Pakistan have participated in all national and provincial dialogues, proactively and engaged in discussions, giving inputs for possible solutions. SUNCSA secretariat is holding an independent civil society dialogue to discuss food system challenges focusing Action Track 1 and 2, reviewing and discussing implementation viability at ground level. The Dialogue is being held with the support of UNFSS secretariat Pakistan.
Objectives of Independent Dialogue
To discuss Pakistan's innovative solutions from nutrition lens and their contribution for ensuring food and nutrition security of the masses through a strengthened food system.
To discuss the role of civil society for implementation of suggested innovative solutions for strengthening food systems and making them nutrition sensitive.
The discussion will revolve around the following points to achieve the Dialogue objectives:
Nutrition sensitivity of Action Track 1 &2 solutions for strengthening food system in Pakistan
To what extent the solutions will ensure food and nutrition security of the masses
Implementation feasibility of innovative solutions
Role of civil society for implementation of suggested innovative solutions
الشكر والتقدير
Dr. Muhammad Azeem Khan - Chairman PARC & Head UNFSS Secretariat Pakistan; Mr. Muhammad Aslam Shaheen - Consultant UNFSS secretariat Pakistan; Dr. Shabina Raza - CD NI Pakistan; Dr. Hamid Jalil- Member Food Security, Climate Change & Nutrition, Planning Commission of Pakistan; Dr. Irshad Danish - Global Advocacy Advisor NI/ Chair SUNCSN; Ms. Aisha Jamshed - CD WHH Pakistan; Mr. Omer Bangesh - FNS Expert WHH; Ms. Bilquees Gayas - Project Coordinator NI; Mr. Badar Uzaman - National SUN Secretariat.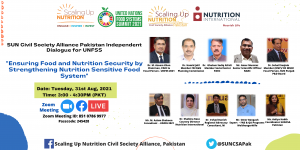 مصدر الصورة: Ms. Bilquees Gayas, Project Coordinator Nutrition International / SUNCSA Pakistan Secretariat