Организатор
MGCY, YOUNGO, GACSA, and Kitchen Connection
Дата/время
Начало
Окончание
Формат
Онлайн
Просьба ознакомиться с приводимыми ниже данными для получения регистрационной информации, если таковая имеется, или обратитесь к руководителю диалога, если желаете принять участие.
Куратор
Pramisha Thapaliya - SDG 2 Interim Global Focal Point MGCY Focal Point, in support of UNFSS
Описание
Young people have already shown the examples of resiliency, recovery and leadership when it comes to food systems transformation. Be it the climate crisis, nutrition, educating the public or taking leadership on own, young people are already transforming the food systems. But the current system is quite traditional and not friendly with the mindsets of current youths. So, in complement of the ongoing food systems dialogues happening all around the world, we, the different constituencies and organizations are convening a broader series (Part 1) of FOOD SYSTEMS DIALOGUES, on the side-lines.
This dialogue is collaborative effort of MGCY, YOUNGO, GACSA, and Kitchen Connection of in support of  UN Food Systems Summit 2021. The dialogue won't be limited to young people but it will be an avenue for young people to directly speak with the decision makers. This allows governments, development partners and relevant stakeholders to identify the challenges youth are facing in these areas of Food Systems. It will also further assist in scaling up these best-practices. Most importantly, it will yield relevant recommendations to fit to the Food Systems Summit, COP 26 and beyond.
To JOIN the dialogue, REGISTER HERE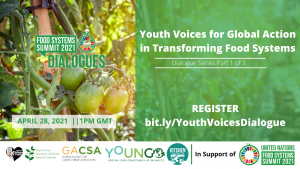 Изображение: UNFSS, Domenico & John