Официальная обратная связь диалога для Саммита ООН по продовольственным системам 2021 года
Последнее обновление:
Загрузить PDF
Организатор
DR. ANDREW KWASARI Senior Special Assistant to the President on Agriculture
Дата/время
Начало
Окончание
Формат
Онлайн
Просьба ознакомиться с приводимыми ниже данными для получения регистрационной информации, если таковая имеется, или обратитесь к руководителю диалога, если желаете принять участие.
Куратор
Francine Picard, Senior Policy Officer, Lead Partnerships, IISD
Описание
How can we influence consumption pattern through policy interventions that will lead to better environmental and nutritional outcomes? This is the central question that Ceres2030 is exploring through a study on the nexus of climate change, food systems and nutrition. The overall objective of this study is to build the evidence base for how food systems can be transformed to provide affordable healthy diets to all in a sustainable way in Nigeria.
The Office of the Vice President in Nigeria is partnering with IFPRI, and IISD  to organize a consultation. Participants are invited to consider the following questions:
What are the expected trends in terms of diets for Nigeria?
What is the definition of a healthy diet for the country, when considering cultural and economic specificities, and nutritional value of different food items?
Based on micro-econometric evidence, how well do we understand consumer decisions regarding food, in particular in transitioning food systems?
What are the policy instruments and the food system innovations required to achieve healthier diets?
What are the costs and benefits, both in economic and environmental terms (GHG focus) of these diets, and their mitigation value?
What is the most efficient set of actions to achieve this transformation?
How do the different sets of actions translate in terms of weather or climate risk exposure to the future food systems?
The consultations are designed to encourage feedback on the project and develop joint ownership of the recommendations with national stakeholders and to maximize the use of the findings.
The results will contribute to the Summit's goal of providing healthy diets for all, in a sustainable way and will be published to coincide with the dates of the Summit.
Благодарности
The project is funded by the German Federal Ministry for Economic Cooperation and Development (BMZ) and the European Commission, through the GIZ implemented projects Knowledge for Nutrition (K4N) and Agricultural Policy and Food and Nutrition Security as a contribution to the 2021 UN Food Systems Summit.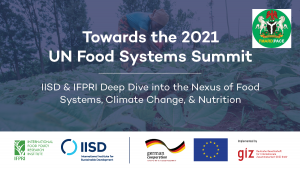 Изображение: IISD