Официальная обратная связь диалога для Саммита ООН по продовольственным системам 2021 года
Последнее обновление:
Загрузить PDF
Виды диалогов
Государства-члена
Организатор
NATIONAL DEVELOPMENT PLANNING COMMISSION AND THE MINISTRY OF FOOD AND AGRICULTURE
Дата/время
Начало
Окончание
Формат
Онлайн
Просьба ознакомиться с приводимыми ниже данными для получения регистрационной информации, если таковая имеется, или обратитесь к руководителю диалога, если желаете принять участие.
Куратор
PROF. ANNA LARTEY, NUTRITION AND FOOD SCIENCE DEPARTMENT, AND PROF. AMOS LAAR, SCHOOL OF PUBLIC HEALTH, UNIVERSITY OF GHANA, ACCRA
Описание
Ghana's inaugural dialogue will be held under the theme «Developing a Resilient and Equitable Food System for Improved Food and Nutrition Security". It will bring together food systems actors such as producers, transporters, processors, retailers, consumers, waste managers, academics, policymakers, the private sector, youth, and women to deliberate on Ghana's food systems.
The objective of the dialogue is to share information and reflect on the status of Ghana's food systems, identify challenges and constraints, potentials and opportunities, and game-changing solutions and ideas for its transformation, including defined roles and responsibilities.
The dialogue will entail a framing presentation on Ghana's Food Systems, five break-out sessions based on the Food Systems Summit action tracks, and a plenary to share and build consensus on key recommendations for transforming Ghana's Food Systems.
Благодарности
UNITED NATIONS, GHANA, SUN ACADEMIC PLATFORM, AGRA.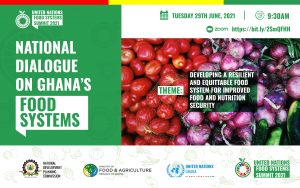 Изображение: Anthony Nelson