Организатор
Dr Cristina Tirado (WFP, IPCC)
Дата/время
Начало
Окончание
Город
Rome, Metropolitan City of Rome, Italy
Формат
Онлайн
Просьба ознакомиться с приводимыми ниже данными для получения регистрационной информации, если таковая имеется, или обратитесь к руководителю диалога, если желаете принять участие.
Описание
Climate Resilient Development Pathways (CRDPs) are new development concepts that combine climate mitigation and climate adaptation, to support sustainable development and ensuring ecological and human well-being.  While CRDPs are critical for human and food systems resilience, the practical implementation of resilient pathways through the integration of foresight and multisectoral approaches has been only recently introduced for climate adaptation planning.
This side event will bring together physical and social research groups, cooperation agencies, and UN experts to discuss the CRDPs conceptual framework, showcase case studies in Africa of integration of foresight methods, risk management, adaptive social protection and on-going feasibility and effectiveness assessments of multisectoral adaptation options for food security and nutrition.
Program
17:05 Welcome-Intro– Sandrine Dixson-Decl ve (Chair UNFSS AT5 Resilience)
17:10 Climate resilient development pathways framework
17:15 Climate change projections | Food security — Daniel Mason-D'Croz (CSIRO)
17:25 Climate Resilient Development Pathways in Africa CGIAR — Sabrina Chesterman
17:40 Sahel Resilience Initiative — Volli Carucci (World Food Programme
17:55 Multi-sectorial adaptation — Cristina Tirado (WFP, IPCC Lead Author AR6)
18:05-18:30 Audience Q&A
Please register at https://wfp-org-conference.zoom.us/meeting/register/tJwtduiurDgiG9yUh6PpJUmFmyqdddqpQQJi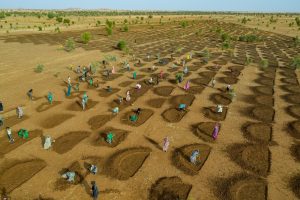 Изображение: UN WFP