Организатор
Cynthia Rosenzweig, NASA GISS; Laure Tall, IPAR Senegal; Sabine Homann-Kee Tui, ICRISAT Malawi; Dilys MacCarthy, University of Ghana
Дата/время
Начало
Окончание
Местоположение
Botswana, Burkina Faso, Côte D'Ivoire, Ghana, Guinea, Malawi, Mali, Mauritania, Mozambique, Senegal, South Africa, Zambia, Zimbabwe
Формат
Онлайн
Просьба ознакомиться с приводимыми ниже данными для получения регистрационной информации, если таковая имеется, или обратитесь к руководителю диалога, если желаете принять участие.
Куратор
Cynthia Rosenzweig, AgMIP
Описание
AgMIP, through its unique integration of multi-modeling approaches with stakeholder engagement, has advanced co-development of decision support tools and adaptation strategies in the face of climate change and other shocks (especially COVID-19). This has helped generate actionable information for adaptation planning processes in developing countries.
Local-to-national stakeholders and decision-makers appreciate the research-informed stakeholder dialogue as very helpful in identifying research and policy gaps. These motivate concise recommendations for productivity-enhancing, environmentally sound technologies, and inclusive development approaches. Furthermore, these stakeholder dialogues help bridge the gaps between policy, research, and adaptation strategies, especially for low-input smallholder farming systems.
Registration:
To attend the Dialogue and receive other informational materials regarding the event, kindly register via the link: https://columbiauniversity.zoom.us/meeting/register/tJAvduiqpzgpGNcQ2zocFyJHT7zD3ObFCSzY
Благодарности
We thank the AgMIP community worldwide. We also thank Erik Mencos (Columbia University) for his support in organizing and hosting this event. And we acknowlege support from UK FCDO and Canada's IDRC for the AgMIP CLARE activities.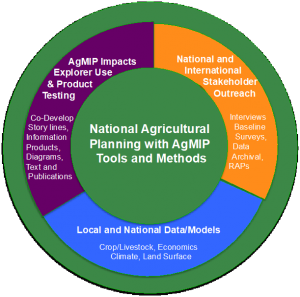 Изображение: Carolyn Mutter, AgMIP