Официальная обратная связь диалога для Саммита ООН по продовольственным системам 2021 года
Последнее обновление:
Загрузить PDF
Организатор
Ntiokam Divine, Founder and Managing Director ,GCSAYN and UNFSS Champion
Язык диалога
French, English and Bulu
Дата/время
Начало
Окончание
Формат
Очный
Просьба ознакомиться с приводимыми ниже данными для получения регистрационной информации, если таковая имеется, или обратитесь к руководителю диалога, если желаете принять участие.
Куратор
Foretia Divine,GCSAYN
Описание
Objective : Mainstreaming the Traditional Rulers within the UN Food Systems Summit 2021 and beyond as Agents of Change .
Having the notion that we are in the Decade of Action, engaging with Community Leaders who are the custodians of the forest and nature as well as closest to the population is an added value to the Summit process. We are all aware the uniqueness of this summit lies in the fact that its a Peopless Summit and  a Solution Summit.
Благодарности
HRH Mvondo Bruno , Bityili-Mekok Community Leader.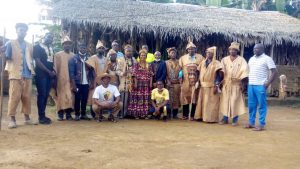 Изображение: Ndzong Denis, Intern GCSAYN GCU