Official Dialogue Feedback to the United Nations 2021 Food Systems Summit
Last updated:
Download PDF
Type of Dialogue
Independent
Convened by
Ntiokam Divine, Founder and Managing Director ,GCSAYN and UNFSS Champion
Language of Dialogue Event
French, English and Bulu
Geographical focus
Cameroon
Format
In-person
Please review the details below for registration information if available or contact the Convenor if you would like to attend.
Curator
Foretia Divine,GCSAYN
Description
Objective : Mainstreaming the Traditional Rulers within the UN Food Systems Summit 2021 and beyond as Agents of Change .
Having the notion that we are in the Decade of Action, engaging with Community Leaders who are the custodians of the forest and nature as well as closest to the population is an added value to the Summit process. We are all aware the uniqueness of this summit lies in the fact that its a Peopless Summit and  a Solution Summit.
Acknowledgement
HRH Mvondo Bruno , Bityili-Mekok Community Leader.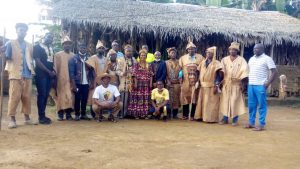 Image credit: Ndzong Denis, Intern GCSAYN GCU