Организатор
Kalipunan ng Maliliit na Magniniyog ng Pilipinas (KAMMPIL)
Язык диалога
Philippine Dialect and English
Дата/время
Начало
Окончание
Город
Jaro, Leyte, Philippines
Местоположение
Philippines
Формат
Онлайн
Просьба ознакомиться с приводимыми ниже данными для получения регистрационной информации, если таковая имеется, или обратитесь к руководителю диалога, если желаете принять участие.
Куратор
Roy Ribo, National Coordinator
Описание
The Independent Dialogue is a follow through of Farmers and Fishers in the Philippines on the previous NID it has conducted last June 8, 2021. The focus of this dialogue is to gather and validate key issues, concerns and challenges facing local farmers and fishers that can be addressed through policy reforms. The over all direction is to build sustainable food systems in the localities and contribute to the achieving the sustainable development goals. The result of the dialogue are policy recommendations that will be submitted to concerned and relevangt government agencies and institutions as well as global institutions and development agencies.
Благодарности
International Fund for Agriculture Development (IFAD), Asia Pacific Farmers Program (APFP), KAMMPIL, FFF, PAKISAMA, PKSK, AMMMA Katipunan, FECOFFWA, LAKAMBINI, KMA, KATARUNGAN, PESANTE, KAMMPIL AGRICOOP.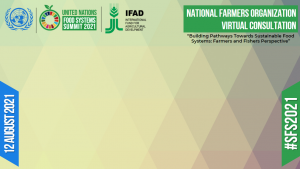 Изображение: ICT for the People