Официальная обратная связь диалога для Саммита ООН по продовольственным системам 2021 года
Последнее обновление:
Загрузить PDF
Виды диалогов
Государства-члена
Организатор
Madam Francess Alghali, Minister of State, Office of the Vice President
Дата/время
Начало
Окончание
Местоположение
Sierra Leone
Формат
Очный
Просьба ознакомиться с приводимыми ниже данными для получения регистрационной информации, если таковая имеется, или обратитесь к руководителю диалога, если желаете принять участие.
Куратор
Madam Nenebah Jalloh, National Coordinator, Scaling Up Nutrition Secretariat
Описание
The food system dialogue will be centered around  two of the global action tracks – Action track #1 — Ensure Access to Safe and Nutritious Food for all and Action Track #5 — Building Resilience to vulnerability, shocks, and stresses.  Ten thematic areas have been identified for the dialogue discussions to revolve around them as follows:
Access to finance
Access to inputs
Production Requirement
Processing
Marketing and Distribution
Consumption and Utilization
Food waste management
Policy development, enforcement, and coordination
Conflict and instability
Climate/Environmental extremes Economic shocks
Pandemics & agricultural negative impacts
Five sub-national dialogues were held as follows:
Western Region — 13th and 14th July 2021
Southern Region — 29th and 30th July, 2021
Eastern Region — 29th and 30th July, 2021
North Western Region — 29th and 30th July, 2021
Northern Region — 2nd and 3rd August 2021.
Благодарности
I would like to express our gratitude to our major donor the Republic of Ireland under Irish Aid, the United Nations Country Team (UNCT) and all development partners, civil society organizations particularly Focus 1000 and SLeCAD that have provided the required funds and technical expertise needed to prepare for national dialogues.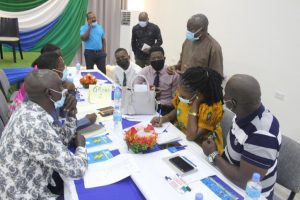 Изображение: Scaling up Nutrition Secretariat