Официальная обратная связь диалога для Саммита ООН по продовольственным системам 2021 года
Последнее обновление:
Загрузить PDF
Организатор
Philip Lymbery, CEO, Compassion in World Farming and UN Food Systems Champion
Дата/время
Начало
Окончание
Город
Godalming, United Kingdom
Формат
Онлайн
Просьба ознакомиться с приводимыми ниже данными для получения регистрационной информации, если таковая имеется, или обратитесь к руководителю диалога, если желаете принять участие.
Куратор
Jenny Andersson, Really Regenerative CIC.
Описание
Regenerative agriculture offers a significant opportunity to transform food systems to life-enhancing systems, which restore and regenerate land, soil, waterways and biodiversity and improve farmed animal welfare.
This dialogue will explore how to scale regenerative agroecological production for better human, animal and planetary health. It will build on the aspiration of the UN Food Systems Summit (UNFSS) to move towards food systems that help us to achieve the Sustainable Development Goals.
The dialogue aims to:
Highlight the perspectives of those already engaged in regenerative agriculture approaches including regenerative farmers and global food businesses.
Discuss the key constraints holding back the wide adoption of regenerative agricultural practices.
Explore how to create increased global support for an integrated, holistic approach to policy reform across the food system value chain in support of regenerative agriculture.
Discuss recommendations for accelerating the emergence of regenerative agriculture as a key pillar of a sustainable food system.
Examine how to realise the potential for a new generation of young regenerative farmers to enter the industry, and thereby scale it
Speakers to include:
Jeff Moyer, CEO, The Rodale Institute.
Nicoletta Batini, Senior Economist, The International Monetary Fund (IMF).
Cees Jan Hollander, Global Farming Expertise Manager, Danone.
Will Harris, Farmer, White Oaks Pasture, and founding member of Regenerative Organic Certified/Alliance.
Please join the dialogue to contribute to the building of a more resilient, fairer, healthier, compassionate and sustainable food systems.
Please register at:
https://us02web.zoom.us/meeting/register/tZIocu-orDMjGNcmE2y-O3DE74zqLRN4VFAl
Благодарности
With thanks to all our speakers from organisations including The Rodale Institute, Danone and White Oaks Pasture.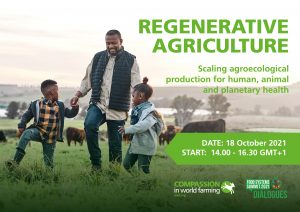 Изображение: istockphoto.com