Официальная обратная связь диалога для Саммита ООН по продовольственным системам 2021 года
Последнее обновление:
Загрузить PDF
Организатор
YASIF and UYSG Nigeria
Дата/время
Начало
Окончание
Формат
Онлайн
Просьба ознакомиться с приводимыми ниже данными для получения регистрационной информации, если таковая имеется, или обратитесь к руководителю диалога, если желаете принять участие.
Описание
Nigeria UN Food Systems Summit Youth Dialogue is aimed at bringing together youth leaders and youth led organisations in the Nigerian agri-food business sector to highlight the critical roles and contributions of young people in building a sustainable and equitable food systems for all.
Благодарности
US-African and European Business Group SL, Lagos Food Bank Initiatives, YPARD Nigeria, IYS Nigeria and Community Actions on Food Security (CAFS).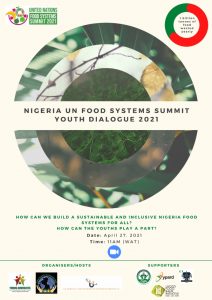 Изображение: Jubril Gbolahan Adigun, Research Director UYSG Lagos Chapter